What's that you've got there? Is that a little Roth IRA you've got going? Cute! You're putting five percent of every paycheck into a 401k? Neat! The company you work for is matching a whopping three percent of every paycheck? Generous! You're even setting aside extra money each month to invest in incredibly exciting low risk mutual funds? You responsible fool. You're doing exactly what the government wants you to do. You're just another sheep in the flock being shepherded by Uncle Sam. You could be living like a king, eating steak for every meal and swimming in the finest material possessions money can buy. Instead, you're a middle class sucker.
I understand why it might be tempting to put your money into a 401k or some other type of retirement fund, especially when the company you work for is pushing some "matching" scheme down your throat, but let me ask you a question. What if you kick the bucket before you're able to spend a dime of that dough? You'll feel pretty stupid then, won't you? You'll be an angry ghost, forced to wander the earth between this life and the next, watching other people spend your hard-earned paper on mortal swag. They'll be shining while your dumb corpse is rotting in the ground.
What kind of idiot throws currency that he sweat for into an account he can't touch until he's 59 years old without massive tax penalties? There is almost definitely going to be a nuclear war before you reach that age. If not, you could easily be crossing the street and get hit by a bus, or get some flesh-eating disease from the water at a janky Chinese restaurant. By my calculations, the odds of you dying or the world ending altogether before you have the pleasure of seeing a penny from your 401k are extremely high.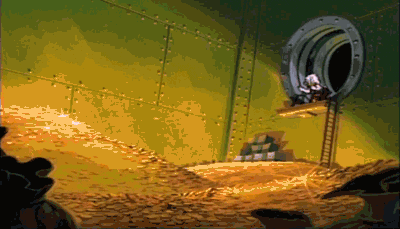 It's time to face potential facts. Even if you do survive, and the world manages not to end, your account could simply disappear at any second. Think about it. It's not like you've ever actually seen any of that money in person. It's just a number on a website floating around in the interwebs. A website that could suddenly cease to exist. Why are you putting your faith in big banks? These are the people that nearly destroyed our entire economy by handing out shit ass loans for years. You might be saying, "But my savings is insured by the national government!" You trust the national government? Are you aware of the garbage human beings that the national government is comprised of? Can you name a single senator, you uneducated doofus? Our current president's previous career revolved around firing people on national television.
One day, you're going to wake up and that website you hit to check your retirement balance is suddenly going to be offline. Then who do you call? Too little, too late. This is why you should keep all your money under the mattress. Zero percent interest is better than one-hundred percent of your money vanishing. Can't argue with that.
Saving for retirement today is basically admitting that you don't trust yourself to kick ass and make deals tomorrow. Scared money don't make no money. Don't be a simpleton and do something just because everyone else is doing it. Eat drink and be merry, for tomorrow we die. Dave Matthews said that and he's worth hundreds of millions of dollars. You think Dave has a 401k? Shit no.
Bet on yourself. Take a risk one time. Ball out of control today and let tomorrow worry about itself. Quit getting cucked by the man. You can't take it with you when you die. Money isn't real, George. It doesn't matter. It only seems like it does..