======= ======= ====== ====== ====== ===== ==== ====== ====== ===== ==== ======= ======= ====== ====== ====== ===== ==== ====== ====== ===== ====
As is well documented over the course of this series, I've hit somewhat of a weight loss stall. I'm still blaming that on the curse of publicly posting my weekly losses, but that's not the point of this column. Instead, let's talk about motivation. While we all have different "big-picture" motivations for wanting to lose weight, sometimes you can lose sight of that purpose when you are in the week to week dregs of eating salads with chicken for dinner every night after running 3 miles and watching the scale not budge.
So do I when the end-game goal isn't enough to keep me motivated? Well, I've got a few motivational tricks up my sleeve…
Take A Break. It seems counter-intuitive to just say "fuck it" and eat a bag of Reese's cups while lying on the couch binge for three days watching Game of Thrones as a way to gain some motivation. But like most things in life, sometimes you just need to take a break from trying to lose weight, because let's be honest – it's exhausting. What's interesting about the weight-loss break, for me anyway, is that my lazy gluttony only lasts for about two days before I feel like crap and am legitimately craving a workout and a salad. Mission accomplished.
Clean Out Your Closet. I said a while back that one of the unexpected costs of losing weight was all of the new clothes you got to/had to buy. But for some reason, I always hang onto the clothes in the next size up in case I have a set-back… which is totally a crutch. So when I'm feeling blah about my progress, I go on a closet purge and ditch all of those too-big sizes, because I'm never going back. The big donation bag of clothes not only serves as motivation, but also makes me feel good since I'm doing a good deed.
And Your Instagram. Now, I know there are many people that follow the Jen Selters and Kayla Itsineses of the Instaworld for motivation, or fitspo as it's so charmingly called. But you know what? All that I feel when I look at those gorgeous ladies' accounts is downtrodden and totally unmotivated. Why? Because frankly, I am never, ever ever going to look like a fitness professional, and while I'm 100% ok with that, having them pop up on my Insta as a source of "motivation" has the opposite effect. So I hit unfollow, and instead followed a bunch of recipe pages (try Skinnytaste or Peace Love Low Carb) and fitness magazines (like Women's Health and SELF ). I also follow the Chanel insta because their classic black quilted handbag will be my gift to myself when I reach goal and sometimes the visual reminder helps get my ass in gear.
Set Interim Goals. Waiting for a reward until I reach "goal weight" means I'll be waiting a long time, so when I'm in a rut, I'll set small, interim goals that don't even necessarily have to do with the number on the scale. Maybe it's that I'll lift weights four times instead of three this week, or that I'll double my water intake during the work week. Setting and achieving small goals kicks my motivation into gear and makes the big one – goal weight – seem a little bit more achievable.
And Reward Yourself. Now, we've discussed how rewarding yourself with food is off the table, and buying yourself a full-on gift every time you meet a small goal is probably beyond the limits of your checkbook. But here's an idea that I read in one of the 30-plus health magazines on my nightstand and I can't remember which one so I'm taking credit: set 5 goals, and give 5 of your supportive friends 5 bucks to buy you a mini-present. Each time you achieve a goal, you collect one of the gifts from one of your friends. Spending 5 bucks on yourself is sort of meh, but getting a surprise mini-gift is fun.
Step Off The Scale. The other J (yes, she's still alive!) and I debate this all of the time: she weighs herself every day, and I had to cut back to once a week because I was making myself insane. Which one of us is right when it comes to weight loss? Who knows, but one of my motivational tricks is to skip a week on the scale and just focus on my metrics and workouts and not my weight. Often times, when I get back on the scale, the results are enough to give me some motivation to carry on (see weeks 14/15 below).
And if all else fails, tape an inspirational meme to your fridge..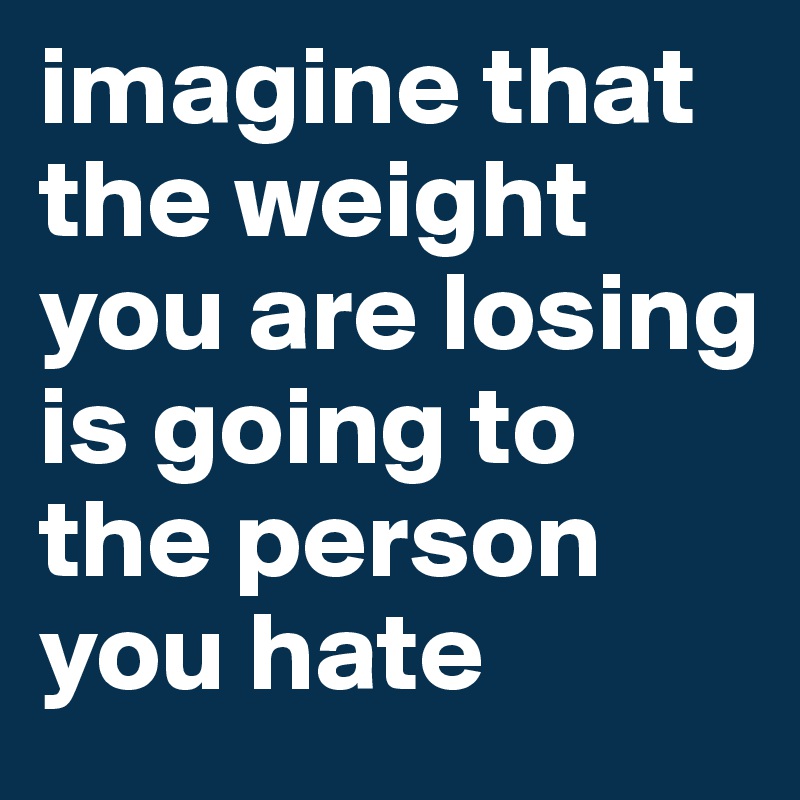 Hey, I didn't say it had to be nice.
Starting weight to Lose: 30 pounds
Week 1 Results: – 1.1 pounds
Week 2 Results: – 2.1 pounds
Week 3 Results: +0.4 pounds
Week 4 Results: – 0.2 pounds
Week 5 Results: – 0.2 pounds
Week 6 Results: – 0.1 pounds
Week 7 Results: -0.9 pounds
Week 8 Results: 0.0 pounds
Week 9 Results: -0.5 pounds
Week 10 Results: -0.6 pounds
Week 11 Results: 0.0 pounds
Week 12 Results: – 0.2 pounds
Week 13 Results: -0.1 pounds
Week 14 Results: No weigh in
Week 15 Results: – 2.3 pounds
Week 16 Results: +0.6 pounds
Week 17 Results: – 0.2 pounds
Week 18 Results: -0.1 pounds
Remaining weight to lose: 22.4 pounds
If you want to follow along with me, friend me on MyFitnessPal or FitBit!

Image via Shutterstock