Back in December, I told you 25 Things I Learned from Christmas Vacation in honor of the movie's 25th anniversary. Of course, we all know that Christmas wasn't the Griswalds' first vacation. Before they celebrated the holidays in 1989, they went to Europe in 1985 and Wallyworld in 1983. (They also took an ill-fated trip to Vegas in 1997, but that one was so bad, I try to forget it exists)
Now, thirty two years after Clark and Ellen Griswold (Chevy Chase and Beverly D'Angelo) took their kids Audrey and Rusty on that first vacation (Dana Barron and Anthony Michael Hall in the first movie – no one ever seems to care that the kids are played by different actors in each movie and that sometimes Audrey is older and sometimes Rusty is), it's time for a new Vacation, with Rusty setting off to Wallyworld with his own family. I'm not sure if Kelly Bundy and Stu from The Hangover Christina Applegate and Ed Helms will ever capture my heart quite the way Clark and Ellen did, but I'm willing to give them a chance. But before I head to the theater for the new movie, which opens Wednesday July 29th, here are some things I learned from the original:
Almost anything can be a distraction when driving.

And distractions can lead to serious trouble.

Sometimes you just don't need silverware.

Plane, train or automobile: whoever gets the middle seat is always screwed.

Sometimes the things put in place to help us can actually hurt us.

Whatever you think is weird about you probably isn't all that strange.

All it takes is a little persuasion to get people to help you out.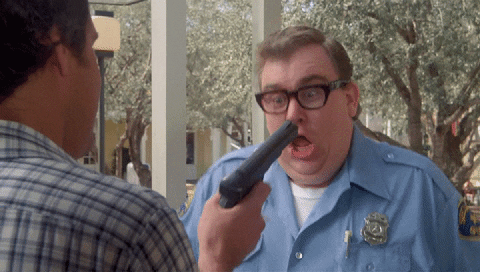 Always call ahead.

Driving while drowsy is never a good idea.

The weird uncle: every single family has one.

Eating in the car usually makes a mess.

It's important to pack properly for any trip.

People usually overestimate themselves.

Father-son time is so important.

Everyone loves a sandwich.

Dreams do come true.

Not all dogs are cuddly.

Sometimes the ends justify the means.

The excitement when you reach your destination (of any journey) is almost too much to bear…

…because no matter how shitty that journey was, it's almost always worth it….

…because Jerry Seinfeld had it right: "Life is truly a ride. We're all strapped in and no one can stop it. When the doctor slaps your behind, he's ripping your ticket and away you go. As you make each passage from youth to adulthood to maturity, sometimes you put your arms up and scream, sometimes you just hang on to that bar in front of you. But the ride is the thing. I think the most you can hope for at the end of life is that your hair's messed, you're out of breath, and you didn't throw up.".
Image via YouTube