Around this time of year, we are inundated with Christmas programming. I mean, the Hallmark Channel has literally been airing cheesy holiday movies since the beginning of November. AND I LOVE IT.
But how can you tell the good from the bad? Of course, there are the timeless classics – "A Christmas Story," "Miracle on 34th Street," "White Christmas," "Die Hard." But there are also a lot of "new releases" that are worth fitting into your holiday viewing schedule, and I'm here to rank them for you.
So why did I pick 1989 as my benchmark? Not because of Taylor Swift, that catchy-song-writing-witch. Instead, it's because that was the year that my ultimate, #1, favorite Christmas movie was released, so I couldn't write this without including it. So using 1989 as the cut-off point, here we go:
11.) "The Ref" (1994)
A guy taking a bickering family hostage over the Christmas holiday doesn't exactly seem like a heart-warming story, but there are some surprisingly feel-good life lessons in this one.
10.) "The Santa Clause" (1994)
Apparently if you accidentally kill Santa Claus, you actually become him – which is pretty much the plot of this flick starring Tim Allen as the new Santa. While the big jolly belly and the giant white beard may be a downside, I figure that Santa's job has got to be better than mine, so how bad can it really be to have to take over for Father Christmas?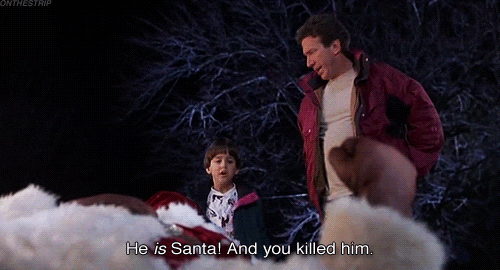 9.) "The Holiday" (2006)
Hot take: I hate Cameron Diaz. So I am predisposed to dislike any movie that she's in, hence the low ranking on this one. But I do love Kate Winslet, and I definitely could identify with her character, Iris, who switches houses during the holiday season with Diaz's Amanda after both women experience heartbreak.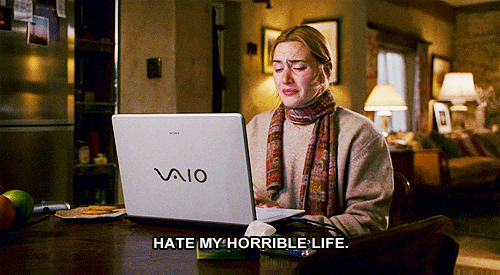 8.) "The Muppet Christmas Carol" (1992)
I'm not ashamed to admit that I love the Muppets. And as I've said before, the live-action versions of the Dickens classic always scared the crap out of me, so this remake with Kermit as Bob Cratchit is right up my alley.
7.) "The Nightmare Before Christmas" (1993)
There's portals to representing most of the major holidays, a skeleton known as The Pumpkin King and a lobster-like King of Christmas named Sandy Claws. So basically, this is the holiday movie that you should specifically watch when you're high.
6.) Bad Santa (2003)
If I did happen to become Santa, a la "The Santa Clause," I would probably be the same kind of Santa as Billy Boy Thornton – drunk and swearing. Actually, that's my standard m.o. for dealing with children, but that's neither here nor there. Thornton plays a guy that dresses up as Santa to rob shopping malls at night, but of course, this is a Christmas movie, so Willie T. Stokes learns some important lessons along the way.
5.) Home Alone (1990)
Every year I watch "Home Alone" during one of its 2451061 airings on cable…and then I have flashbacks to this one time that my aunt forgot me at a rest stop for like 20 minutes and I had a full-on panic attack. So while I get that this is a Christmas classic for many of you, the only part of this movie that puts me in the holiday spirit is when that weird neighbor guy's family shows up; I always drop a few tears during that scene.
4.) Dutch (1991)
A dark horse entry here at number four, but if you've never seen this one, you're missing out. Right in the middle of his stint as Al Bundy, and long before he was Jay Pritchett, O'Neill headlined this comedy as stepfather-to-be Dutch Dooley picking up his girlfriend's snooty kid at boarding school after the kid's even-snootier dad ditched him for the holidays. Yes, O'Neill gets shot in the crotch with a BB gun and there are two hookers in the storyline, plus a random cameo from Arnold Palmer, but there's also a lot of heart.
3.) Elf (2003)
What the hell kind of a list would this be if "Elf" wasn't on it? To be honest, I don't love this one with the same fervor that many of you do, but as that I don't want you all to put coal in my stocking, I ranked it pretty high.
That's being said, I totally get the allure of this movie. Honestly, the world would probably be a much happier place if we all got the hell over ourselves and had even half the enthusiasm for life that Buddy does.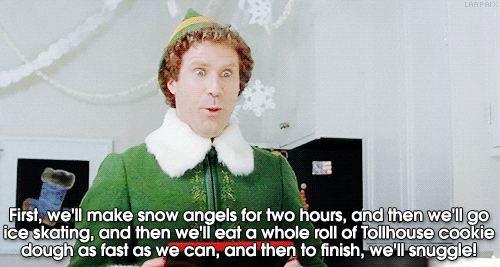 2.) "Love Actually" (2003)
There's been this weird anti-"Love Actually" movement lately and all I have to say is…you people are a bunch of big, fat liars. You don't want to admit that you love it, because it's cheesy as fuck. Ok, I get it, you want to seem cool. But we all know that you really love that the Prime Minister fell in love with the maid, that the writer fell in love with his housekeeper, that Billy Mack finally realized that Joe was his best friend, and that Mark finally got over Juliet. I was eh on the storylines about the American foursome, the porn stars, and the mentally ill brother. But if that scene with Emma Thompson listening to Joni Mitchell's "Both Sides Now" when she finally accepted that her husband was a cheating prick and that little kid finally getting a kiss from Joanna doesn't give you all kinds of feels, you're dead inside.
1.) "National Lampoons' Christmas Vacation" (1989)
Yeah, that's right kids. I didn't pick some touchy-feely Christmas movie as my number one. Because anyone that's ever spent a holiday with their family knows that the Griswalds' shitshow of a festivity is the closest depiction of a real family holiday. Every family has a Clark, an Aunt Bethany, a Rusty, and even a Cousin Eddie. And although it's not the classiest of holiday films, there is still a lot you can learn from it.
Where's the Tylenol?.
Image via YouTube