======= ======= ====== ====== ====== ===== ==== ====== ====== ===== ==== ======= ======= ====== ====== ====== ===== ==== ====== ====== ===== ====
The docket for social change is getting to be a heavy one. Even when you flush it down to gender equality specifically, there is no shortage of subtopics on the matter. But one is particularly near and dear to my heart. In our society, there exists a prevalent double standard, and it is time to pinch it off once and for all. I'm talking about poop.
Pooping is probably the third thing we do at the start of life only after breathing and crying. Literally every living thing does it in some form or another. If there is one natural function that unites us, it is churning the butt butter. Rich, poor, young, old, big, small. It transcends species, race, culture, geography. Napoleon pooped. Harambe pooped. John F. Kennedy pooped. Every king, sultan, emperor, and Shamu who has ever lived and died pooped. And regardless of whether they ate mutton, corn, rice, bread, fish, or vegetables, their shit stank.
So when was it decided that half the population needed to pretend we poop glitter and rainbows? Why can't we be honest about the disgusting things our bodies are capable of? Why do guys get to tell stories about sharting in front of their kids and debate wiping techniques, but if I so much as hint at the fact that I use my butthole for a non-sexual purpose, I get hit with the "LA LA LA I CAN'T HEAR YOU" that is the notion that girls don't poop. But I am here to shout for the world to hear: I am a woman, and I poop.
A world in which girls can speak freely about pooping is a better world for everybody. Guys, how much do you love it when you ask a girl "What's wrong?" and she responds with "Nothing?" Instead of wondering if she is going to kill you in your sleep, wouldn't you much rather like to hear her say, "You're good babe, I just have to drop a fat deuce one time." Don't even try to deny the immediate mood boost that comes from a good dump. As far as I am concerned, a successful bathroom trip can quell an argument faster than a pizza with the word "sorry" spelled out in pepperonis.
I also hear complaints from guy friends alarmed at how early the girl they are seeing leaves in the morning. Like it's a huge mystery why she left before he could get any morning action going after seeing him rendered impotent by his 10th whiskey coke the previous night. He thought she liked him. Why are women so confusing? But I shouldn't have to fill you in on this. You saw homegirl taking down those IPAs last night. You do the math and get back me.
I dream of a world in which I can tell the truth about the reason for my seemingly short fuse. I dream of a time in which I can seek a shoulder to cry on about whatever hungover bubble-guts plague me at any given time. I dream of a future in which my daughters are free to vent about the internal volcano spurred by one fucking chimichanga.
And sure, maybe I'm approaching this the wrong way. Maybe an argument could be made that no one should talk about poop, regardless of their gender. After all, women being in on the joke doesn't make it any less crass. But last I checked, this is still America. It is not in the spirit of the constitution to close the gap by taking rights from the haves, but rather, to give rights to the have-nots.
Beloved PGP contributor and Photoshopper extraordinaire PostGradShibby has already proven himself as an early champion of the #YesWeDooDoo movement by creating a remarkable illustration sure to spread like wildfire.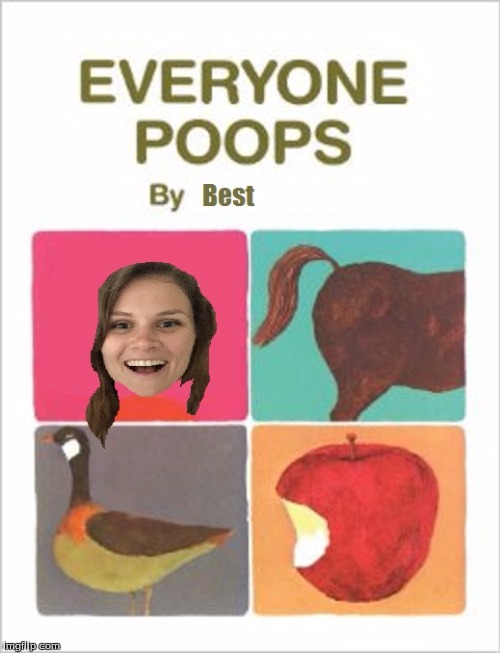 I mean, you can't not support that.
So go ahead and keep pretending girls don't poop. But the next time a cat-caller yells "Damn baby, what that ass do?" I will respond the only way I feel is genuine. By looking him confidently in the eye and beginning with "Well sir, I'm glad you asked.".
Image via Shutterstock