As good as last weekend was for me, I'm paying for it this weekend. A six-hour flight from California; jet-lag; and a full inbox to weed through were my rewards for daring to disconnect from the office for a solid five days. Of course, my beloved Patriots won against "America's Team," so it wasn't all bad. Or at the very least, it was better than some people's.
Wiz Khalifa
If your name is Wiz, you probably feel like you can get away with anything. You can ride a hoverboard through LAX, you can break up and get back together with Amber Rose like 100 times, and you can take a piss wherever you want. Right?
Not so much on the last one. Wiz (real name: Cameron Jibril Thomaz) was issued a ticket in Pittsburgh early Saturday morning after (you guessed it) taking a whizz outside of a bar called The Flats on Carson. No word whether Wiz was pissed off (pun intended) getting a ticket in his hometown, which uses one of his biggest hits as their unofficial anthem.
[via TMZ]
Nick Chubb
Speaking of names, I imagine it was pretty tough growing up for Georgia player Nick Chubb growing up. The fat and/or masturbation jokes that poor bastard must have endured. But despite the handicap of that horrible last name, Georgia's sophomore running back overcame, and even triumphed – in fact, just last week he tied Herschel Walker's record for consecutive 100-yard games. But now, unfortunately, it looks like Chubb's season may be over.
During the first play of Georgia's loss to Tennessee, Chubb landed uncomfortably after being shoved out of bounds.
Here is how Nick Chubb got injured. First play of the game. pic.twitter.com/9Iot3SDzey

— Dr. Saturday (@YahooDrSaturday) October 10, 2015
On Sunday, Nick's mom updated his status on Facebook:
The last name Chubb and three torn ligaments in one knee? Seriously, that poor guy. [via Yahoo!]
Randy Quaid
I can't say I've seen many Randy Quaid movies, but I do lovingly remember him as Cousin Eddie from the vacation movies.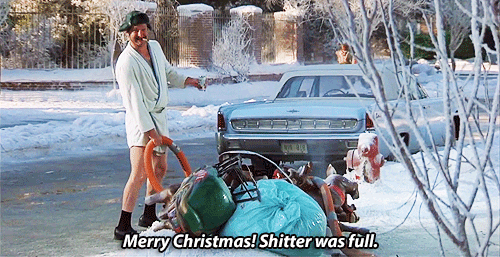 As well as that guy that sacrificed himself to save us all from the aliens in "Independence Day."
Well, it would appear that everyone's favorite leisure-suit wearing relative has gone bat-shit crazy over the last few years, culminating in his arrest in Vermont after trying to sneak back into the U.S. from Canada.
Quaid and his wife fled to the country to the north five years ago, seeking asylum in Canada after being charged with felony vandalism after trashing a property they used to own in California. They claimed they were afraid that "Hollywood star whackers" were trying to kill them. However, Quaid's asylum request was denied and he was scheduled to be returned to the U.S. this Wednesday; but instead of waiting, he decided to try and re-enter on his own, prompting his arrest.
Oh, Cousin Eddie. [via CNN]
Pan
Did anyone even know there was a live-action "remake" of Peter Pan coming out this weekend? I mean, I consider myself a pretty in-touch person, particularly entertainment wise, and I had no freaking clue that this was even a thing. Apparently I wasn't the only one — according to Mashable, with just a "$15.5 million in opening-weekend box domestic office receipts against an estimated $150 million budget, Pan is the unofficial biggest bomb of 2015, recovering just 10.3% of its production cost in its home debut."
"Pan" beats out two other movie disappointments, Fantastic Four and Tomorrowland, to take 2014's bomb crown. For comparison's sake, Fantastic Four earned 22% of its cost during its opening weekend, and Tomorrowland earned about 17%.
I guess if you are going to be bad, you want to be the worst, right? [via Mashable]
This Squirrel
Ever been caught stealing? Not like robbing-a-bank stealing, but maybe sneaking an extra cookie when your mom told you not to or going into your boss's office to raid that jellybean stash you know he keeps in his bottom drawer? Well, you probably didn't look as cute as this squirrel in Maine did when he got caught raiding a bird feeder.
Actually, I'm pretty sure this squirrel doesn't GAF that he got caught and had a great little weekend for himself, but I figured we all needed a squirrel vid this morning. You're welcome. [via The Daily Mail] .
Image via Shutterstock