So for the past month or so, I've had the joy of dog-sitting some pretty wonderful pups. I've spent a few nights of watching Narcos with a dachshund that has no clue about personal space, and enjoying the company of an awesome terrier mix dubbed, "Sir Wiggley Rex Esquire The IV", or Wriggz for short, and I've loved it. Seriously, Wriggz has one of the highest chill: pull ratios I've ever seen in any living creature. If you don't believe me, just look at this guy.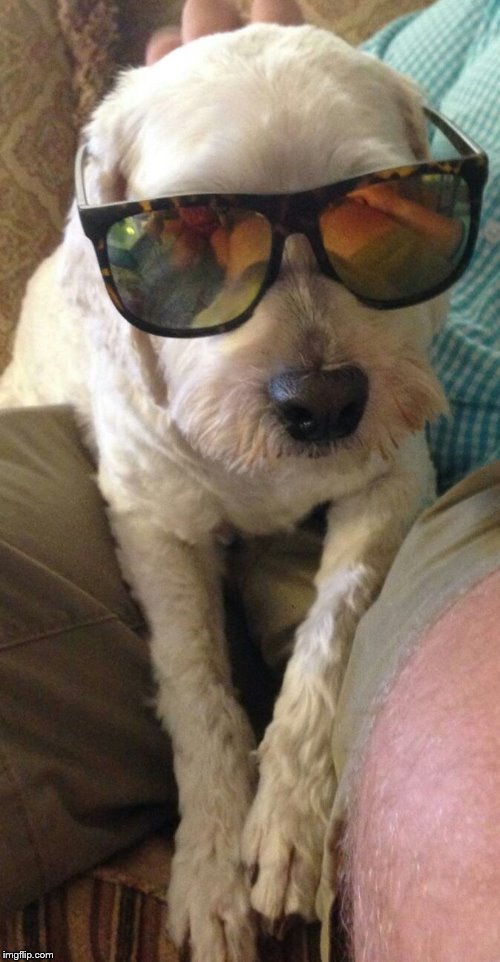 All he needs is a doggy mimosa and flannel and you'd have a certified canine wingman.
The time spent with dogs this month really got me thinking about if I was actually ready for a dog of my own. Then, because I probably have undiagnosed ADD, my mind eventually wandered off into thinking about how dogs are literally like small furry children, except way better…
1. Your dog won't ever complain about the Halloween costume you picked out for them.
2. You don't mind the fact that your dog will never move out.
3. Dogs won't die if you leave them alone unattended for five hours.
4. You'll never hear a dog cry about what he's having for dinner.
5. Dogs will never talk back about taking family photos.
6. Your dog will never throw a temper tantrum if they don't get a new toy from Petco.
7. It's 100% socially acceptable to get hammered with your dog.
8. You will never be forced watch The Wiggles, Frozen, or The Kardashians with a dog.
9. You won't have to stop drinking for nine months to get a dog, ladies.
10. A dog will NEVER complain about you getting stoned and watching Rick and Morty.
11. I've never heard of a dog murdering their owner for the inheritance money.
12. Even though they may bark, a dog will never yell inappropriate words like, "Bukake" and mortify anyone within earshot.
13. It's not appropriate to train children to flush birds, attack criminals, or sniff out bombs.
14. Dogs won't get drunk and act like a huge douche over some bacon jalapeño Mac and Cheese.
15. Your dog wouldn't follow up that performance with a half-assed apology video where the whole Internet will scrutinize you for an awful home décor choice.
16. A dog would never steal your car at age 16 to go out joy riding.
17. Dogs will never use up all of your data plan.
18. I've never once heard of a dog cock-blocking someone.
19. You won't ever hear a dog say, "I'm tireeedddddddd" cry then make you carry them on your back for three miles while hiking.
20. A dog will always loyally and courageously take the blame for a nasty fart.
21. More importantly the dog will never blame a loud fart on you.
22. You will never have an awkward parent teacher conference about inappropriate classroom behavior.
23. The dog will never bring home a group of their asshole friends that try to steal your beer.
24. Your dog will never be embarrassed when you tell horrible dad-jokes. Doggone it puns are funny! Nothing? Ruff crowd, looks like I barked up the wrong tree.
25. Dogs will love you unconditionally, you will never have a falling out with your dog and end up not speaking for years. Even if you do yell at them, at most they'll sulk for a day before begging for food while you eat.
Sorry kids, but dogs are way cooler than you.
If you are looking to adopt a dog, please check out the following links below. Odds are there's some pup out there you'll love in need of a good home. If you're willing to bring one in I can promise you that a dog may occasionally chew a shoe or poop in the house, but they'll never let you down..
Operation Paws for Homes, American Kennel Club, Hearts United For Animals