Today, December 23, marks the greatest of all holidays: Festivus. Most of us were introduced to this wondrous holiday by a 1997 episode of "Seinfeld," but what a lot of people don't know is that it has actually been celebrated since 1966, when author Daniel O'Keefe created it. He named the holiday after the Latin word "festivus," which means "joyous, holiday feast day" and included it in a book he wrote in 1982. However, it didn't gain popularity until 1997, when O'Keefe's son, also named Dan, a scriptwriter on "Seinfeld," created an episode of the show centered around the holiday his dad invented.
So why should any of us care about Festivus, particularly when we already have holidays to celebrate this time of year? Well, because when you think about it, Festivus is really the perfect holiday for postgrads.
Inexpensive Decorations
Celebrating the traditional holidays requires some pricey decorations. For Christmas, you need a tree, and for Hanukkah, a menorah (and not one of those plastic ones, you cheap bastard). All you need for Festivus is an aluminum pole, which you can get at a hardware store–or you can buy one online at, you guessed it, festivuspoles.com. For the poor postgrad with no holiday decorating budget, the relative cheapness of this singular decoration (that you can reuse year after year) makes Festivus the perfect holiday. Plus, I find tinsel distracting.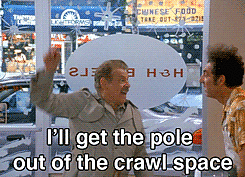 No Gifts
Another financial benefit of Festivus is the lack of gifts. While not receiving gifts over the holidays sucks, not having to buy them is definitely good for your wallet. And look at it this way: you can use all of the money you save on exchanging gifts with loved ones to buy yourself the stuff you would have wanted to get anyway. However, if you are one of those people who feels as if he or she needs to give people something for the holidays, you can always make a "donation" in their name to a totally reputable charity, like the Human Fund.
The Airing Of Grievances
Growing up, I was always told that if I didn't have anything nice to say, I shouldn't say anything at all. That definitely applied at the holiday dinner table. But at Festivus, the exact opposite is true. The celebration begins with the "Airing of Grievances," which takes place at dinner. During the course of the meal, each person gets to tell the others at the table how much they disappointed him or her in the last year. An open forum where I can tell my sister that the bridemaid dress she chose for me is hideous and my parents that their "helpful" comments about my job search make me want to stab them with my butter knife? Yes, please.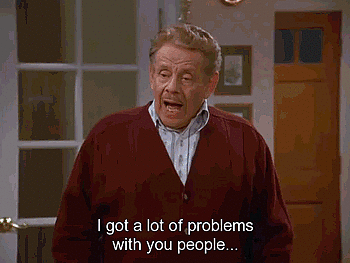 Feats Of Strength
Generally, physical altercations are frowned upon during holiday dinners, but that's not so on Festivus. In fact, they are required. Before the celebration of Festivus can end, the head of the household must be pinned in a wrestling match by a guest of his choosing. However, if the person selected cannot participate (either due to a physical ailment or the need to leave for work) it is appropriate for another guest to suggest who should compete instead. Quite frankly, the opportunity to throw my annoying cousin Brian in the ring against my uncle Bob the bodybuilder is too tempting to pass up.
Festivus Miracle
Every year, we usually hear of some kind of Christmas miracle: a dog finding its way to his family, which moved a thousand miles away or a guy waking up after twenty years in a coma. In other words, shit that will never happen to you. But a Festivus miracle? Totally possible, since Festivus miracles are everyday things such as running into a friend at the bagel place or your ex texting you for a booty call since you're both home for the holidays. Who doesn't want a miracle to happen to them, right?
It's Really For Everyone
During "the holidays," the only holiday that's really inclusive is New Year's Eve, which, in my opinion, is the shittiest holiday of them all (probably because I don't have someone to kiss at midnight, but that's a story for another time). Christmas is for Christians, Hanukkah is for Jews, Kwanzaa is for African-Americans, Ramadan for Muslims, Chrismukkah is for fans of "The OC," and so on and so forth. But Festivus? It's not just for the rest of us–it's for all of us. So join me around the table as we dine on the traditional meal of spaghetti and air our grievances, won't you?.