I'm not a violent guy. I've been in less than two fights in my life. I've never been punched in the face and I've never punched someone in the face. I'm a pacifist and any altercations I've found myself in have usually fizzled out before hands could be thrown. Regardless of my nonviolent past, there are still some people who you just look at and say to yourself, "Man, I would really love to rearrange your face. I know literally nothing else about you other than I want to inflict pain upon you. Especially that face of yours."
I'm not saying I would flat-out cold-clock these people if I saw them walking down the street in real life, but let's just say if I was granted full immunity from any sort of legal proceedings and general personal guilt and embarrassment to the punch-receiving party after said punch, I would have no problem serving up a knuckle sandwich to these people.
Ed Sheeran
This guy's kisser is just begging for a bitch slapping. I don't hold the same disdain for redheads as the rest of the general population, so let's just cut that kind of prejudicial speculation out. Sheeran runs with T-Swift and used to date Ellie Goulding. A guy who looks like this shouldn't be running with prime trim like that. "But Bri Man, he's so talented and you've said you're a really big fan of talent!" Yes, I am a big fan of talent, but Sheeran's talent is questionable at best. He's like the one out of 17 million college town one-man bands who made it to the big show. If I ran the music biz, Sheeran would still be playing dollar draw night for $40 a pop.
Mark Teixeira
A guy with this kind of thumpable mug is undeserving of an awesome nickname like "Tex." Dude's from Maryland, anyway. Teixeira looks like a horse and there's nothing more I'd like to do than have him throw down with Jack Johnson and Tom O'Leary.
Newt Gingrich

Christopher Halloran/Shutterstock.com
One of the most intense arguments I've ever gotten in was with one of my more conservative friends around the 2012 GOP primary. He loved Newt for the nomination, and let's just say I was less enthused about him. When asked why I didn't like him, I simply retorted, "Just look at him!" There's no way I could sit across from that dude at a dinner party without wanting to vault myself over the table and land a Liu Kang-style flying bicycle kick directly to his forehead.
Roger Goodell
I'm sure Janay Rice would agree with me.
Riff Raff
I don't think I have to explain myself here.
Michele Bachmann
I would never, ever hit a woman, but the consensus with the women I asked was that Michele Bachmann has the most punchable female face out there. So, I deferred to them and let them describe it:
She's got crazy eyes and her voice makes me want to claw her eyes out. Not to mention she's a noted bigot and homophobe. Her Newsweek cover should be shown to any sane person who is thinking about voting for her.
Joe Francis
I remember watching Girls Gone Wild commercials when I was a young buck and thinking to myself, "Man, the guy who can talk all these hot college chicks into taking their clothes off for no money must be the coolest, smoothest talking, most handsome badass in the world." Boy, was I wrong. Instead of the coolest, smoothest talking, most handsome badass in the world, I saw what Joe Francis actually looked like. Goober city.
God, this guy sucks.
Darren Rovell
I'd gladly donate $10,000 to a charity of his choice to clobber him right in the money maker.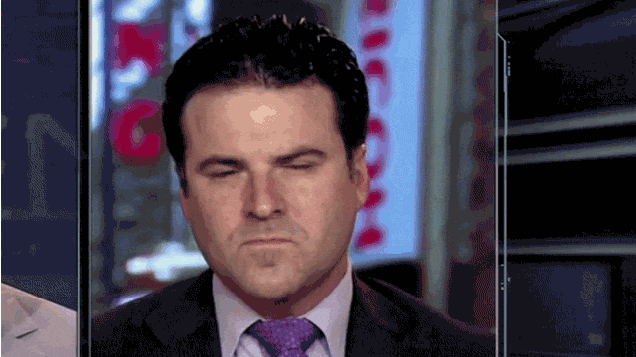 Deadspin
Nancy Grace
Again, I defer to someone with a vagina:
Even with Nancy Grace's unbearably abrasive personality and her fear mongering ways set aside, I would still love to introduce her face to my knuckles, maybe a shovel. Yeah, a shovel would do.
Drake
The fact that this dude is the most popular musician in 2015 makes me want to pummel his face relentlessly. Is Drake an excellent lyricist? Sure. I just can't justify liking a dude who regularly fanboys as hard as Drake fanboys over professional athletes.
Look at how hard he's trying. Then he drops the casual "What am I supposed to do?" and then he throws up probably one of the worst basketball shots ever seen at Rupp Arena. Haymaker-worthy kisser.
Philip Rivers
I have a massive amount of disdain for Philip Rivers. The Chiefs have to play him twice a year, which means that twice a year, I have to watch 30+ sideline reaction shots of Rivers bitching out his receivers, screaming at himself, and generally looking like a doofus. For some reason, broadcasters love him, so in addition to his annoying general presence, I have to listen to Dan Dierdorf and Ian Eagle fawn over Rivers's tantrums.
There's still this, though.
DISCLAIMER: I do not condone physical violence in any situation and would not actually punch these people in real life. Use your words.
Featured image via Shutterstock