Well my friends, here we are again, on yet another Monday. To be honest, my weekend wasn't all that interesting, aside from some amazing finds at HomeGoods. The only problem is that it wasn't long enough, as usual. But even so…it was still a better weekend than some people had.
OkCupid Users
I've been on a hiatus from dating sites for a bit, so I personally didn't know that OkCupid even had a "premium" service. But apparently it does, and according to one user, it's a total scam.
According to a new lawsuit, a man named Chad Perkins paid $44.99 for the "A-List" package from the dating service, but all of the accounts that "liked" his profile were inactive. When Perkins questioned it, he was told that it was a "software programming error or bug," but Perkins didn't think that explanation quite added up, and has filed a class action lawsuit saying that those accounts are actually fakes.
But here's my question: how is that any different than any other dating site? [Via TMZ]
Hash Brown Lovers
We've had a few food recall stories in this column, but I don't think any of them have been as weird as this one.
McCain Foods has issued a recall for frozen hash browns sold under the Harris Teeter and Roundy's brands in Illinois, Wisconsin, North Carolina, South Carolina, Virginia, the District of Columbia, Delaware, Florida, Georgia and Maryland. Why, you ask? Because the frozen potatoes may be "contaminated with extraneous golf ball materials" that "may have been inadvertently harvested with potatoes used to make this product," according to the recall notice.
Yeap, that's right. If you happen to have purchased any of the contaminated spuds, "Consumption of these products may pose a choking hazard or other physical injury to the mouth."
Um…thanks for the heads up, McCain. I'm going to take a hard pass on your hash browns for a bit, since I usually prefer mine with a side of ketchup. [Via CNN]
Patrick Beverley
We will get to the teams that were eliminated in a bit, but let's start the sport section of the column with the Houston Rockets' point guard. Not only did his team lose to the Oklahoma City Thunder on Friday night (they are winning the series 3-1 after a win on Sunday, so let's not feel too bad), but Beverley also got fined $25,000 for an altercation with a fan after the game.
Of course, it wasn't just any fan that Beverley scuffled with; it was Stuart Scaramucci, son of Thunder minority owner Jay Scaramucci. According to The Bleacher Report, "Beverley took exception to something Scaramucci said to him in the first half and approached him after the game." On Sunday, Beverley said that the younger Scaramucci yelled "Eff you, Patrick Beverley" repeatedly while waiving a clapper in his face and that, while he can take being booed, he won't abide "blatant disrespect."
Hey Beverley…you call this "blatant disrespect"?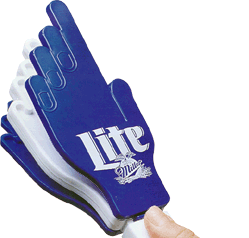 You may need to re-evaluate your definition of the term. [Via Bleacher]
The Indiana Pacers
The Pacers became the first team to be eliminated from the NBA playoffs on Sunday, when they lost Game 4 of their first-round series with the Cavaliers.
The Pacers actually put up a decent effort in the last quarter of the game, and when Paul George missed a 3-pointer than could have tied the game in the final seconds, the expression on Pacers president Larry Bird's face pretty much summed up the disappointment of all Pacers' fans:
I'm sure a lot of Pacers fans are feeling the same, Larry. Tough losses at home to end the season. #NBAPlayoffs pic.twitter.com/uPWfCykeS6

— Larry Hawley (@HawleySports) April 23, 2017
Maybe next year. [Via CBSSports]
The Minnesota Wild, The Montreal Canadians, The San Jose Sharks, The Chicago Blackhawks, and The Boston Bruins
While the Pacers are the only team that's been eliminated from the NBA playoffs, the same can't be said for the NHL players. Over the weekend, four teams were booted from the first round.
Nashville and Anaheim swept Chicago and Calgary, respectively, in four games, while St. Louis only dropped one game to Minnesota before eliminating them. Both the Bruins and the Canadians managed to hang on for the longest, winning two games before they were ultimately felled by their opponents.
Better luck next year to my beloved Bruins; to everyone else…..well, yeah, you too. [Via CBSSports]