======= ======= ====== ====== ====== ===== ==== ====== ====== ===== ==== ======= ======= ====== ====== ====== ===== ==== ====== ====== ===== ====
It's not even a week into December, but I'm already fairly deep into my annual holiday movie watch. Many people have strong opinions regarding the best Christmas movies. Some love the family-friendly romps like Polar Express, others like sappy rom-coms like the Holiday, and many others want to enjoy the festivities with a light comedy such as the classic Will Ferrell tale Elf. It's a movie that is incredibly popular among millennials, which is why I put on the thickest skin I could muster before hitting send on this sure-to-be-controversial take: Elf is perhaps the worst, but certainly most overrated, Christmas movie ever.
As I will demonstrate, this "comedy" filled with slapstick humor that wouldn't even make a high school freshman chuckle, dry and grating characters, and an overall just garbage plot is vastly inferior to a criminally underappreciated movie: How the Grinch Stole Christmas. To clarify, I'm not talking about the original cartoon version, which is an indisputable Christmas classic. I mean the 2000 live-action version starring Jim Carrey in perhaps his most overlooked comedic role. On re-watching both movies, I am stupefied how many people love watching Will Ferrell try to save the lifeless peons around him by squealing for 90 minutes over the dark and sardonic Grinch played by Carrey in his comedic apex (the Grinch came out two years after Truman Show and three years before Bruce Almighty). Still not convinced? Well, let me break it down for you.
The Protagonists
In one corner we have a grown man who lacks the basic brain capacity to realize that he, at 6'8" might not actually be an elf when the tallest of his peers peaked at around 3'9". This is a human baby who somehow manages to escape his crib and crawl into Santa's sack, completely unnoticed. He is then raised by Santa and the elves instead of, you know, being brought back home or to one of the many orphanages that Santa must be familiar with. The plot begins with us meeting a 40-year old man with an admittedly charming sense of childish wonder, which causes a few mildly entertaining hijinx when he ventures into the real world.
In the other, we have the Grinch. A well-known character, in the movie the Grinch is an incredibly vulnerable outsider, like Buddy. However, the Grinch is ostracized in a much more realistic fashion even though he exists in a more cartoonish world. This twists the green meanie to become isolated and vindictive yes, but also sharp-tongued, clever, and hilariously sarcastic.
I love Will Ferrell, but I can only watch him act like a moron for so long before I wonder why the hell he was just dropped off in the meanest city in the world, alone, with no way to prove to his father who he was. The Grinch takes this one not just because he's overall funnier, but because he actually shows some character growth, with his heart growing three sizes that day while remaining consistent with his core identity.
Score: Grinch 1 – 0 Elf

The Love Interest
On the one hand, we have Martha May Whovier, the all-around "American" girl. From her early days, she appears to be attracted to the Grinch due to some sort of green furry fetish. However, she and the Grinch are torn apart by the Grinch's intense isolation following a rage-induced episode following some particularly harsh teasing. Although in the beginning of the movie she is with the mayor and villain for reasons unexplained, in the end, she follows her heart once the Grinch gives up on his quest to destroy Christmas.
On the other, we have Zooey Deschanel starring in her billionth role of "quirky, indie girl who sings," this time named Beth. And yes, on a pure eye candy test Zoey is bae and she does the whole cute, endearing thing where she flutters her anime eyes. And yes, in this iteration Zooey's character has the added quirk of not wanting to sing outside for…no reason, but essentially she's just a pretty placeholder character who makes no impact. Don't believe me? I bet you didn't realize that her name in the movie is not Beth. Do you know what it is? Be honest.
I couldn't remember it five minutes after watching the movie, and had to Google to find out her actual name is Mary (or is it? You liar I know you didn't remember). That's how uninteresting she is, causing Martha May Hoo to barely squeak out this point.
Score: Grinch 2 – 0 Elf
The Precocious Child
It wouldn't be a good Christmas movie without having some wide-eyed kid pleading for the adults to remember the Christmas spirit. In Elf, we have a very strong early contender in Michael, Buddy's half-brother. Although initially frosty, Michael is won over after Buddy helps him defeat some bullies by showing Aaron Rodgers-level arm and annihilating these youths in a snowball fight (because all high school kids settle their beefs by snowball fight). After that, the brothers bond and Michael is there to encourage Buddy throughout the rest of the tale.
For the Grinch, we have Cindy Lou Hoo, another famous character from the original cartoon. In the live action sequence, she is the true embodiment of the spirit of Christmas, urging the adults to ignore the commercial nature of Christmas and embrace the spirit of the season. This also drives her desire to include the Grinch in the festivities, to celebrate kindness and community and all that other hippie shit. And even though she's scoffed at by her parents and all the Hoos, and the Grinch rebuffs her at every turn, she is perpetually optimistic and innocent.
Cindy Lou Hoo wins this one walking away. Not only is she younger and therefore cuter than Michael the snooty teenager, she also has a few musical numbers that she owns throughout the movie. And if you didn't like the musical bits, know that the actress who played Cindy Lou grew up to be rocker and model Taylor Momsen. So the Grinch also has that musical cache going for it, while Elf just has more Zooey/Frosti annoying singing. Nope, her name's not Frosti either. I'm shocked you haven't Googled it.
Score: Grinch 3 – 0 Elf

Disbelieving Adults
This is easily the weakest point for the Grinch. The adults in this movie openly mock a child who wants them to embrace the spirit of giving and togetherness over just buying presents. Even her parents are so distracted that they barely even care when Cindy goes on frequent visits to visit a deranged likely serial killer who lives at the top of a double-diamond mountain. But then on Christmas morning, when all the presents are gone, they decide that Cindy Lou was right? They should have tarred that six-year-old for screwing them out of their presents. At least that would be consistent.
Elf does much better in this category, with Buddy's father and stepmother serving as the disbelieving adult figures. Buddy's father reacts to a strange man who claims to be his son that lived his whole life with elves about the way anyone would, by assuming he's a crazy person and trying to get rid of him. Eventually, Buddy ends up in his house, with Walter's wife taking care of him and growing to appreciate Buddy's desire to help his family. They both come around and realize Buddy's gift, which causes this previously dysfunctional family to become a joyous group just in time for the holidays. Very, heartwarming. Oh and Bob Newhart, who is a treasure, is Buddy's father so if it was even close, that would cinch this category.
Score: Grinch 3 – 1 Elf
Villain
The villain in the Grinch is not truly the Grinch himself. For he is the anti-hero, the Walter White of the Christmas season. No, in this movie the villain is the would-be suitor of Martha May and Mayor of Whooville: Augustus May Who. Now, he's clearly a bit of a dickling, given that he's the ringleader of the group that mocks the Grinch for being green and hairy, and he takes every opportunity to tear down the Grinch in front of Martha. But, he's also just trying to keep the town together for their favorite holiday by keeping away the one person who actually is trying to destroy the holiday. Augustus sucks, but he is technically in the right.
As for Elf, the villain is…who exactly? First, it's Buddy's father who (rightly) rejects him before coming around after a cliched and meaningless father-son bonding moment. Then it's his boss, Mr. Greenway, who is ready to fire Walter over some underperforming children's books and is unwilling to reschedule a meeting when Buddy goes missing (again, this is one of the key, climactic conflicts of the story, regarding a grown man being missing during an important meeting…just shoot me please). Then, when Santa is stuck in New York he's chased down by the Central Park Rangers because Santa put them on the naughty list. Remember, this is in a world where adults don't believe in Santa (otherwise half the movie doesn't exist), but now we're meant to believe that these rangers have some vendetta for being put on the naughty list? Good Christ none of this makes any sense.
Even though Elf has three distinct villains, none of them individually or together are enough to overcome Augustus May Hoo. At least he gets the reverse mohawk treatment halfway through the movie.
Score: Grinch 4 – 1 Elf
Musical Number
Every great Christmas movie needs a keynote musical number. The Grinch, of course, has it's own song ("You're a Mean One Mr. Grinch"), which is transposed over the montage of the Grinch preparing for his Christmas Eve caper. This includes a bunch of slapstick gags that equal or better those in Elf and also has a dynamite shoutout to the filming style of the classic Discovery channel engineering show Junkyard Wars.
For Elf, the key musical number comes during the climax of the movie where Buddy and Kelly (is that Zooey's character's name?) lead a crowd of New Yorkers in a rendition of "Santa Claus is Coming to Town" in order to–takes another shot of bourbon and a deep breath before actually writing this–raise the Christmas spirit enough to power Santa's sleigh. Jesus Christ, it would have been unbearably awkward without Zooey being there with her chipper attitude. If there was even a semblance of realism, no one else in the crowd would have sung, and someone from a nearby apartment building would throw a brick at the carolers halfway through the first verse. They may tolerate that sort of ho-ho-ho shit in Milwaukee, but not in NYC.
Score: Grinch 5 – 1 Elf

Funny Quotes/Gifable Moments
"Ah," you're thinking, "surely this is where Elf comes back strong." Admittedly, Elf is not without its share of great moments from Buddy's sugar addiction ("is there sugar in syrup?") to his amazing interaction with Peter Dinklage ("he's an angry elf") and the always referenced gifs: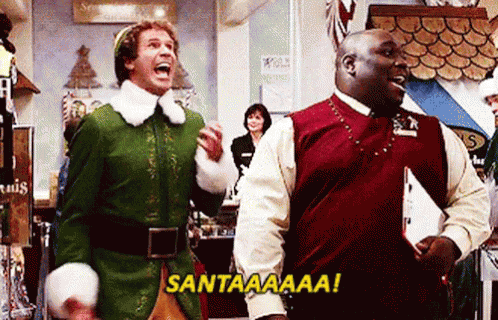 But honestly, that's the big problem of this movie. 90% of the laughs are from Will Ferrell engaging in his regular (though brilliant) physical comedy or just getting massively amped about Santa.
On the other hand, the Grinch gets massively overlooked for a bunch of amazing moments.
Elf gives it a good run here, but I'm still giving it to the Grinch for its range and packing a punch in terms of great moments.
Final Score: Grinch 6 – 1 Elf
So there you have it, this year to get into the Christmas season and have some family laughs, shelf the Elf and pop in the Grinch. You'll be happier than Buddy when he thinks he saw the real Santa for the eighth time.
P.S. The character Zooey plays in Elf is actually named Jovie, which perfectly sums up how forgettable and dumb that movie truly is. .
Image via YouTube