======= ======= ====== ====== ====== ===== ==== ====== ====== ===== ==== ======= ======= ====== ====== ====== ===== ==== ====== ====== ===== ====
Corporate gift giving. It's a big part of quarter four with just about every business culture. Employees get gifts and, well, super cool bosses get super cool gifts. And quite frankly, I have some of the fucking coolest bosses in the content game. Last year I sent a care package out to HQ in Austin. I shipped the guys some brews and good ol' Uncle Dillon some Yeungling. It was a pretty solid gesture in my opinion, especially for the moderate budget I had. But this year, I'm actually going to be getting a 1099 for pounding the keys on my laptop and forming complete sentences, so obviously I upped the budget and will totally attempt to write the whole thing off on my taxes.
So here are the super cool corporate gifts I got the crew here at Grandex.
The Grandex Staff
We all know the in-house writers here pretty well, but there are also a good bit of people behind the scenes keeping Grandex the well-oiled machine it is. People like Rhyne, Blake in HR, and Nick who helped me with my Cyber Monday order from Rowdy Gentleman. I hope you all enjoy the mini-bottles, chocolate and specialty flavored K-cups. Don't forget to spike that next afternoon coffee before happy hour.
Thanks for all that you do, and I hope you enjoy.
Madison Wickham
I got the most appropriate gift I could think of for a dude who loves business like Madison. I got him the gift of a sale. I took advantage of Cyber Monday and ordered a bunch of koozies for guests at my annual Christmas party. However, that being said I still had to do a little bit more. So this year I got the boss man a World's Greatest CEO mug with a small bottle of Makers Mark. I hope you enjoy the gift and get lit while sipping some spiked closer juice on the next Dudes Doing Business podcast.
Be sure to make his Christmas this year and subscribe.
Makers Mark feel free to reach out about sponsoring the Dudes Doing Business podcast
David Ruff
What do you get the Wolf of Sixth Street? A Miata? Not in the budget. Gold cuff links? Still not in the budget (#PGP) No, Crime Dog is now the proud adopted parent of a wild and majestic as fuck gray wolf.
Gray wolves are currently listed as an endangered species. With this adoption, hopefully, another deal closing canine will live a long healthy life and help the species live on. Much like how Bees are dying at an alarming rate, it's important to start a dialogue about helping preserve the Wolf population.
If you would like to adopt an animal of your own, please visit the World Wildlife Fund, and feel free to adopt a grizzly bear for me.
World Wildlife Fund feel free to reach out about sponsoring the Touching Base or Dudes Doing Business podcast.
Oh and there's a Yeungling for you to shotgun in there too.
Will deFries
At some point in 2016, somebody made the joke that Will looked like a sock. Well the joke landed and it stuck. So I got Will the most deFries T-Shirt of all time.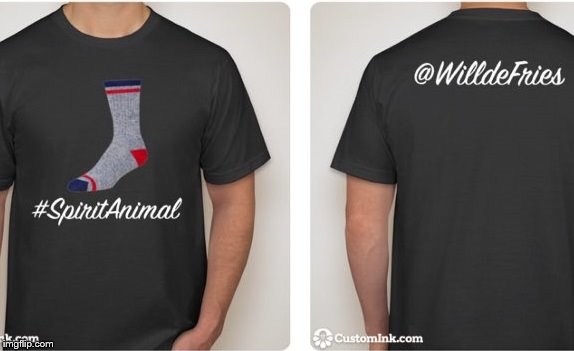 I worked with the folks over at Custom Ink to design Will his very own T-shirt featuring none other than the 'Larimer' Crew Socks in the awesome Ink Heater color scheme, available for sale now at Man Outfitters. Will's featured #SpiritAnimal as seen on his newest shirt. Oh and of course I had to include his twitter handle @WilldeFries for the sake of his nest live blog in Whole Foods.
Custom Ink and Whole Foods feel free to reach out about sponsoring the Touching Base podcast.
Rob Fox
As you can see there is nothing in here. Probably because you still owe a certain someone a case of Yeungling for a bet you lost… over a year ago….
From now on when you gamble, don't risk not getting paid. Sign up for Mybookie.ag, don't be a pussy and use mybookie.com Sign up and use the code POSTGRAD for a bonus.
Dillon Cheverere
Honestly, I didn't think I could top the fox tail and Yeungling I got you last year, but I did. You give me the gift of your Thug Plug playlist throughout the year, so it was only logical that I give you some sizzurp to sip on while flossin through that Austin traffic.
You now got that legal lean, homie. You have yourself here a bottle of 100% completely legal CLOUD N9NE CBD hemp syrup. CBD has been proven to have a wide range of health benefits and this hemp tincture won't make you feel like you're going to piss your pants.
Now double up that styrofoam cup,
and sip that legal lean up.
The rooms not tiltin it's the lean,
Sippin' up that CBD,
From yours truly, me.
#Margs #Bars
Oh and there's a Yeungling for you to shotgun in there too.
Get yours now at buylegalmeds.com
CLOUD N9NE feel free to reach out about sponsoring the Touching Base or Backdoor cover podcast.
Producer Micah
Take your in studio taco bar to the next level with this gourmet nacho cheese taco kit made by Old El Paso.
Oh, and you 100% went to the wrong Christmas party this year.
Old El Paso feel free to reach out about sponsoring any of the Grandex podcast.
Ross Bolen
I feel bad I left you out last year, but I really haven't heard from you since the last Clams & Cockles podcast.
I have no clue what you've been up to, but you haven't been writing so I got you the "Definitely Not For Kids" The Office (in)Activity Guide to stay busy when you're not doing crossfit or writing a NY Times best selling novel.
I really hope you all thoroughly enjoy your gifts and I'm look forward to another great year with Grandex in 2017.
And everyone reading this be sure to make my Christmas by giving all of the Grandex Podcasts a five star (funny) review and giving this column thumbs up and leaving a comment below.
Merry Christmas & Happy Hanukkah,
Shibby