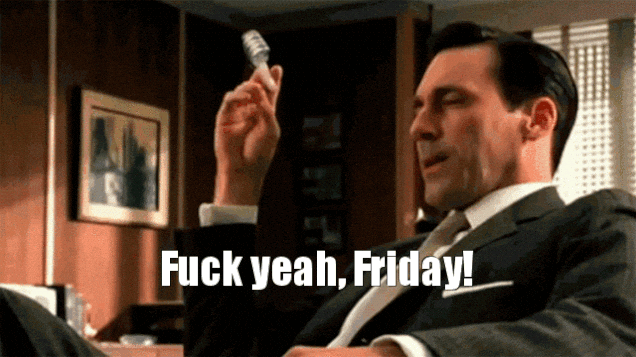 Every morning, we gather here to contemplate, plan, soak up inspiration, harvest motivation, and get jacked up on coffee and confidence for a day of kicking ass.
WHO CAN DENY YOUR GREATNESS WHEN YOU'VE MADE IT TO YET ANOTHER FRIDAY? NO ONE. BUT DON'T LET THIS DAY GO TO WASTE. COASTING UNTIL THE CLOCK STRIKES CLOSING TIME IS WHAT PEOPLE WHO ARE SATISFIED DO. YOU'RE NEVER SATISFIED BECAUSE YOU'RE AN ANIMAL THAT EATS SUCCESS FOR BREAKFAST. SQUEEZE EVERY LAST DROP OF PRODUCTIVITY FROM THIS WEEK. MILK THAT CLOCK, BABY. MILK IT LIKE GREG FOCKER MILKS A CAT. GIVE IT EVERYTHING YOU'VE GOT UNTIL THE FINAL WHISTLE. GO INTO YOUR WEEKEND KNOWING YOU FULLY DESERVE IT AND THEN FULLY ENJOY THE SHIT OUT OF IT.
THIS IS YOUR TIME TO SHINE. YOU'RE NOT A BUSINESSMAN — YOU'RE A BUSINESS, MAN (OR WOMAN…SHOUT OUT TO THE LADIES OF #DCONATION). WITH YOUR WALK AND YOUR TALK, LET THE WORLD KNOW THAT YOU CAME TO DOWN COFFEE AND CASH CHECKS, AND THE POT NEEDS REFILLING. LET EXCELLENCE RADIATE FROM YOU LIKE THE SOFT GLOW THAT SHINES FORTH FROM A BEAUTIFUL PREGNANT WOMAN'S FACE. THE WORLD IS YOUR OYSTER. SLATHER IT IN SAUCE, DUMP IT ON A CRACKER AND THROW IT DOWN THE HATCH. GOD HELP THE DOOFUS THAT COMES BETWEEN YOU AND A WIN TODAY, BECAUSE YOU SURE AS SHIT WON'T.
What's on the schedule this morning? What are you going to conquer today? Let us know in the comments section below. Positivity only. Build the energy. Come correct or don't come at all..