Having unique items in the place you call home – apartment/dorm/frat house/cardboard box/Mazda Miata/bridge underpass – to show off and brag about is an essential part of entertaining guests (or if you're smooth, bagging a doe). If you're like me, and have difficulties hitting about the Mendoza Line, being able to say that you've got a six-foot tall Tom Brady advertisement that used to hang from the rafters in a Dick's Sporting Goods before I "acquired" it is a pretty good way to get someone to at least feign interest in coming back home with me. But it's not the life-size Brady on the wall that most newcomers to my apartment want to ask me about. Nor is it the full size bar that my roommate made from scratch back in college, which includes a full tapped keg inside of the bar completely hidden from view. It's something much smaller (not my penis) that gets everyone talking. It is, in fact, a Koozie Tree.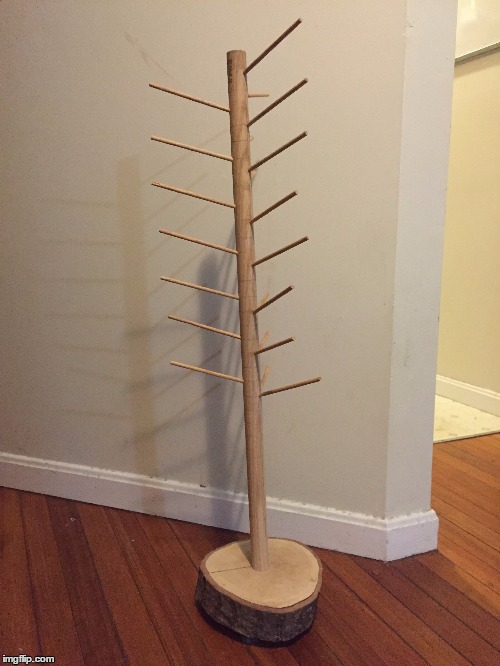 If you've seen something like this before please stop me now. And if you have, you're more well-traveled than your boy, because as far as I know, I invented this thing.
Koozies have been all the rage since like four or five years ago, and it seems wherever you go, you can pick up a new Koozie. There are some great ones to check out over at Rowdy Gentleman, if you need to update your collection or if you've been held captive in North Korea for the last decade and don't know what I'm talking about.
When I graduated college three years ago and moved into a spot with two of my best friends, we all came brandishing a ricockulous amount of Koozies that we'd collected during our college days. When we were all moved in, we basically just dumped them all into a giant pile on a bookshelf in our living room. It looked sloppy and unkempt. I wanted a way to organize them, so it'd be easy to find the one you're looking for. (If you're not looking for specific ones for specific occasions, or using the Koozie to accessorize and match to your outfit, you're simply doing it wrong). And yeah, I also wanted to show off our completely useless yet impressive collection of Koozies. It didn't take long before I'd drawn up a schematic and shown it to my more handy roommates, and within a few minutes we came up with how we were going to build this thing.
If you are living in an apartment this summer, or are going to be living with your buddies this upcoming fall and want your own Koozie Tree to hang your Koozies on, and always have people marveling at your collection so proudly displayed in your living room, or even want to ask a girl at the bar if she wants to come back and see your Koozie Tree, I can make one for you if you Venmo me $50. Or I could just tell you how to do it. Your call.
STEP 1 – Build your base
The base is important, obviously. It holds everything up, but it's also one of the only places on the tree that you can customize. We went with an actual piece of tree for our base. My roommate's dad had just cut down a tree, so we sawed off a slice 9" in diameter and 3" deep. Then we sanded both sides to make it really smooth. We also bought the attachment for a Lazy Susan and screwed that into the bottom, giving our Koozie Tree the ability to spin.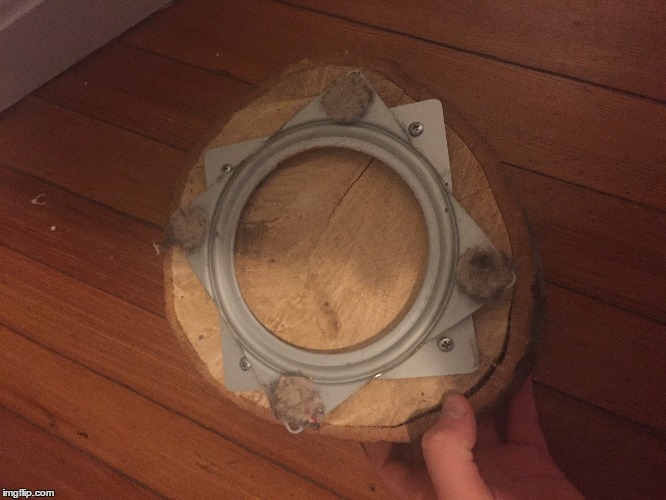 Step 2 – Build your trunk
We bought a dowel that was 1.25" x 48" and used that for the trunk of the Koozie Tree. To get it to stay in the base we used a 3-wing boring drill bit, the same diameter (and, by basic geometry, the same circumference) as the dowel. We drilled about an inch down into the base with the boring bit and we were able to jam the dowel into the hole we'd created. It was a perfectly snug fit, and the dowel was sturdy in the hole.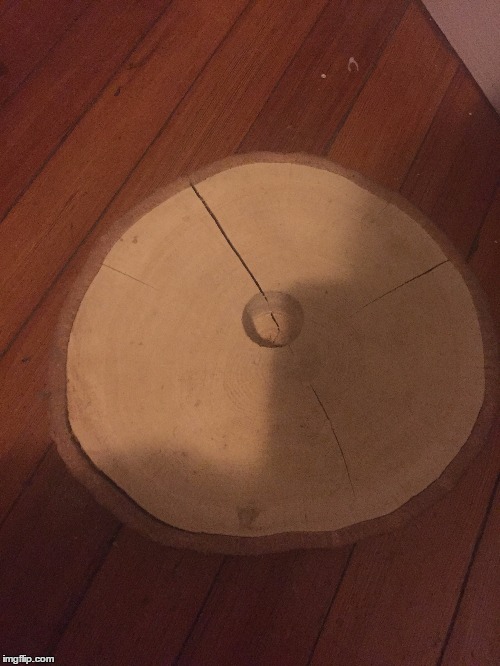 Step 3 – Mapping out the branches
It's important to first mark on the main dowel where you plan on drilling holes for your branches. We did three columns of branches, measured 3" apart vertically, spaced out around the main dowel. As each point where we wanted a branch, we placed the center of the drill receiver (explained in Step 4), and marked off a spot at the top of the receiver, to serve as a marker for where we'd place the receiver when it came time to drilling the holes for the branches (duh).
Step 4 – Building the branches
Without a doubt the hardest part by far. So pay attention, dumbasses. First we bought smaller .25" dowels and sawed them into 6" long pieces. Then we had to figure out a way to get them to stick inside the main big dowel. I'm not exactly the handiest yuppie out there – one of those how many Jews does it take to screw in a light bulb type of situations – but luckily I live with two guys who love to build shit. This is what was created: To keep from drilling through the dowel we took a piece of wood, a semi-circle, that fit snuggly up against the dowel, and put in the middle of it – at a 45-degree angle – a piece of metal pipe measuring a half-inch less than the drill bit in length. That way when we drilled into the dowel the metal pipe stopped the drill from going too far in. How'd we make the semi-circle of wood? We took a block of wood, cut a circle through the middle with the 3-wing boring bit, so it'd have the same radius as the main dowel, then we sawed it in half. Then we drilled a hole into the semi-circle to jam in the piece of pipe.
Check out the schematic my roommate drew up: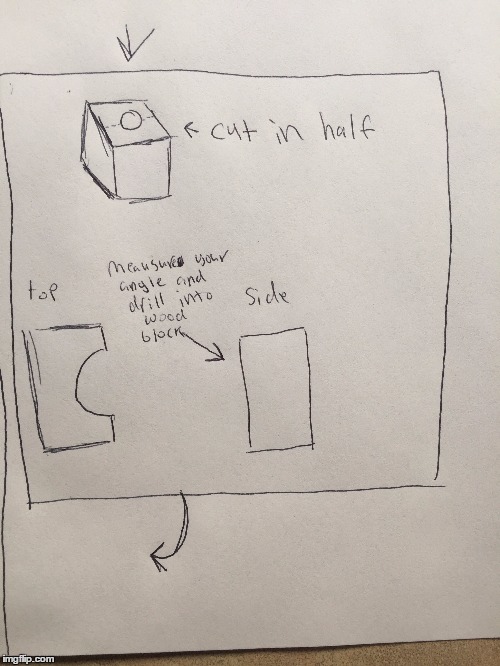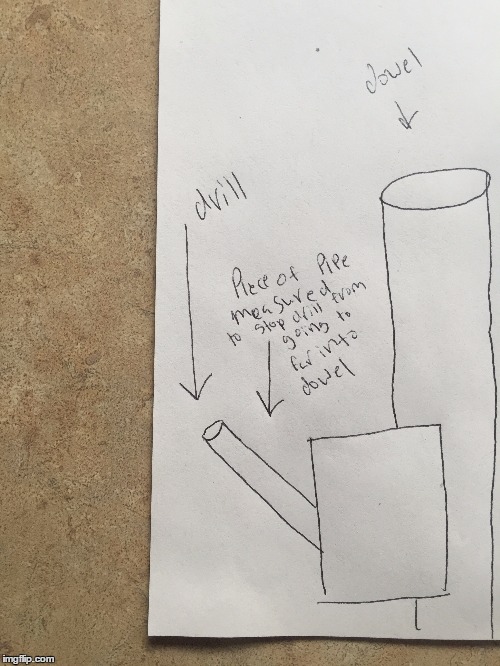 Step 5 – Decorate your tree
Jam the 6" long .25" diameter dowels into the holes you have created in the main dowel. Then slide your Koozies one. We've got enough Koozies for like three trees, so we always keep the reserves in a bag under the tree like they're Chanukah presents on Christmas Morning. Enjoy your tree, show it off, and be prepared for your favorite Koozies to be endlessly stolen off your tree.
DMs are open if you can't figure out any of these steps when you're building this thing in your backyard on Saturday afternoon drinking a beer and grilling some meat. Better yet, invite me to help you out, I probably have nothing cool going on..