Well, it's Monday again, you filthy animals. Whether you spent the weekend lying on your couch recovering from your 4th of July debauchery after a subpar week workwise or trying to one-up your Independence Day shenanigans, there are still some people that had a worse weekend than you.
The Florida State Football Team
Twice this summer, members of the Florida State football team have allegedly physically assaulted women at bars in Tallahassee. On June 23rd, sophomore running back Dalvin Cook allegedly punched a woman outside of a bar when she refused to give her number of a member of his group. The next night, freshman quarterback De'Andre Johnson allegedly punched (although video makes the "allegedly" kind of bullshit) a woman in a different bar. Now, coach Jimbo Fisher has decided upon a way to resolve the teams' issues with violence against women: banning the players from bars. That's pretty much the solution I'd expect from a grown man who refers to himself as Jimbo. Anyway, according to The Tallahassee Democrat, Fisher met with the team on Saturday morning and told them, among other things, that the local bar scene is completely off limits as they continue their pre-season training. Now, I've been to Tallahassee and there ain't much to do at night that doesn't involve going to the bars, so I'm sensing there will be a lot of video games around a keg in some random apartment in these dudes' future. And maybe to be on the safe side, they shouldn't invite any ladies over? [via The Tallahassee Democrat]
Aaron Kromer
And speaking of football and punching people…Buffalo Bills assistant coach Aaron Kromer was arrested early Sunday morning for allegedly punching a boy in the face during an altercation over lounge chairs on a Florida beach. The victim and his friends were fishing on the beach when the fight began. According to ESPN, "Kromer, 48, has been accused of pushing one of the boys to the ground and punching him in the face after throwing the fishing pole into the water. Kromer allegedly then ordered that the chairs be returned to where they were found and told the boy that he would kill his family if he reported him to the police." Now, the age of the "boy" hasn't been shared – so was this some innocent eight-year-old or a mouthy thirteen-year-old? Either way, it sounds like Kromer got some sand in his shorts. [via ESPN]
Bryan Chao
Ok, I don't know what the hell is going on in Florida, but in our third story out of the sunshine state, a gentleman named Bryan Chao allegedly pulled the fire alarm at his hotel in Naples. When police arrived on the scene, Chao and his wife were in the hotel's pool. He was ordered to get out of the water, but instead of complying, Chao instead asked the officers to tickle him. Repeatedly. Eventually Chao was coaxed out of the pool (no word if a Tickle Me Elmo was used as a lure) and arrested for disorderly intoxication. Chao's wife was apparently so wasted that she was also taken into custody due to her lack of ability to take care of herself. Here's hoping these two never procreate; however, due to our high-tech capabilities here at PGP, we were able to mock up a picture of their possible future child: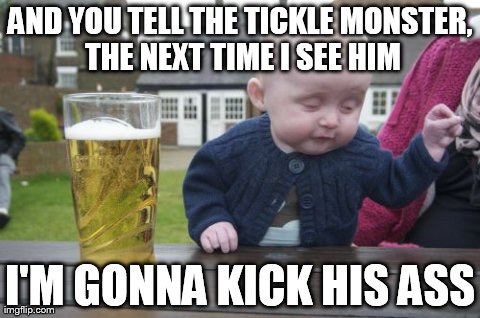 [via The Hollywood Gossip]
Evan Spiegel
It's really hard to feel bad for the world's youngest billionaire. But it must kind of suck when your own product comes back to bite you in the ass. According to a report from TMZ, Snapchat founder Evan Spiegel has received "harassing messages through Snapchat, Twitter and email from a man identifying himself as Ramon Martinez." In addition to those messages, which contained references to Molotov cocktails and cutting car break lines, the 25-year-old Spiegel also found a package at his home, which contained a letter wrapped in a gun magazine. Honestly, I'm just shocked someone actually uses Snapchat for something other than dick pics and boob shots. [via TMZ]
Rickie Fowler
Anyone that follows golf is probably like "What?" True, Fowler did win his second tournament of the year on Sunday at Scottish Open. However, when Fowler won his first tournament this year, The Players Championship, he was congratulated by his girlfriend, model Alexis Randock, who was dressed like this:
But, after Fowler's victory on Sunday, Miss Randock was a little more demurely dressed in a sweater, jacket and pants. Of course, the weather in Scotland over the weekend was a little chilly, so I'm sure that she'll be back to her regular wardrobe soon.
Yeah, never mind, Fowler probably still had a better weekend than you. This was just an excuse to shamelessly post her pics in here.
[via The Daily Mail]
Know of someone that had a bad weekend? Email me and let me know, and you could see it in a future column. .
Image via David W. Leindecker / Shutterstock.com