======= ======= ====== ====== ====== ===== ==== ====== ====== ===== ==== ======= ======= ====== ====== ====== ===== ==== ====== ====== ===== ====
No one is tuning into The Bachelor for ground-breaking philosophical thought processes. Personally, I watch this train-wreck to escape the actual train-wreck that is my life, and in particular, my dating life. It's super easy to feel superior to 30 women who went on a reality television show to find love. As long as I'm not that desperate, I must be doing pretty good, right?
Well, all of my feelings of supremacy came crashing down during The Bachelor finale, when Raven uttered this one line as she was chauffeured through the Finnish countryside after being dumped by Nick:
"Is it just that no one can feel that way about me?"
And suddenly, Raven and I were on the same level. I mean, I'm pretty sure I'm still somewhat superior to the girl from Hoxie, Arkansas because A.) I've had an orgasm and B.) I didn't talk about not ever having had one on national television. But setting the oddness of her particular situation aside, Raven became every girl in that moment. Because the truth of the matter is, most women, including myself, who have been unattached for some subset of time has asked herself this very same question.
Now, normally confidence isn't something I lack. Using the area code ranking of face-body-personality, I would say I'm a solid 7-5-8. Once I reach my goal weight, that middle number will go up a little bit, but even as it is now, I think that's pretty decent, right? I mean my face won't break a mirror, I'm pretty smart, and I go out of my way to be kind to both people and puppies. I'd even venture to say I'm a pretty decent catch. But as you reach a certain age and none of your relationships results in a ring on your finger, your dream wedding, or even just a long-term commitment, you start to indulge that persistent little voice in the back of your head that wonders the same thing as Raven did as she headed to Bachelor in Paradise home.
Could I write some kind of "you are definitely going to find someone!" piece here to dispel all of our doubts that there is someone out there for Raven/me/you? Sure, I could. But the problem with that is that I don't actually know that for sure. My nana used to say that there was a lid for every pot…but maybe Nana's sort of wrong. While I'm pretty sure that someone could feel that way about me, I also know that there are 7 billion people in the world, and it's entirely possible I may not ever meet that person(s).
But while most people would get depressed at the thought of never finding their soulmate (or if you're Nick, your fourth one), I refuse to worry about "what if I never find someone." It's like that quote they use in AA,
God, grant me the serenity to accept the things I cannot change,
Courage to change the things I can,
And wisdom to know the difference.
Given that dating is definitely enough to drive anyone to drink, this quote is applicable. Here's the wisdom in knowing the difference here: I can't control if I ever meet someone, so as long as I have the courage to put myself out there, that's all I can do. And if I don't happen to meet one of my soulmates that's out there in the world, what's the worst that can happen? A full life of family, friends and not having sex with the same person for the rest of my life? Well, then…as my favorite Friend would say…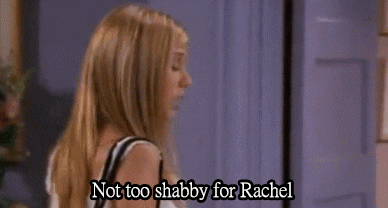 .
Because you guys were so awesome about the inaugural episode of our podcast, "Don't Take It From Us," JR Hickey and I decided to drop the second episode today! Going forward, new eps will be released every Wednesday, so check it out on Soundcloud below or subscribe on ITunes!
Image via ABC / YouTube