Wednesday's Twitter beef between rappers Kanye West and Wiz Khalifa may be a little confusing if you're not plugged into the right social media circles, or if you're not adequately immersed in hip hop culture. Let this pretty cool white dad from the 'burbs explain and get you caught up.
Whoa. What a day in hip hop! My dude Kanye had no qualms with using his Twitter fingers to eviscerate the outmatched Wiz Khalifa (not his birth name) in front of their combined 40 million Twitter followers, but how did this beef start and why did it get so ugly? Let's talk about it, fam.
I guess we'll start on Tuesday evening when Wiz took to Twitter to criticize the name of Ye's new album, "Waves" — a name that replaced the album's original name, "Swish." Wiz, clearly displeased, had some words for Ye about this name change because, according to him, he stole it, or maybe the "wavy" style, from an imprisoned rapper that pretty much no one has heard of, Max B. Quick side note: Max B is in the clink on a 75-year sentence for burglary, assault, and murder. MURDER. That's real. Dope game. Hit 'em up.
Please don't take the wave.

— KOE (@wizkhalifa) January 27, 2016
Max B is the wavy one. He created the wave. There is no wave without him.

— KOE (@wizkhalifa) January 27, 2016
What's "the wave," you ask? I don't know. On the real, I don't think anyone does.
Wiz would go on and on about this "wavy" thing that no one really knows, or cares, about. It was important to him, though. Like we get it, homie. It's wavy. Move on. Like I'm pretty sure that dude Ye didn't steal "wavy" from this cat.
Things went quiet until Wednesday afternoon. That's when Ye started straight wildin' and really clowning this fool Wiz. In a series of virtual haymakers, West explained to Wiz, and 18 million followers, that he ain't steal shit. He said some other stuff about Wiz's music and how he shouldn't talk out of the side of his neck about him. Not entirely sure what that means, tbh. He got straight personal too, talkin' bout how Wiz got trapped by "a stripper," which is an obvious reference to Kanye's former chick Amber Rose, who later got with Khalifa. They had a kid together. Rose used to be a stripper, so you know it's real.
Kanye also claimed to be Wiz's "OG" — that means original gangster — and even took a couple low blows and said some stuff about how he owns Rose and Khalifa's child? Idk man, it was aggressive. He was also pretty upset that Wiz tweeted something with Ye's wife's initials: KK. Kim Kardashian, that one with the big ol' fat ass and the sex tape, is Ye's wife.
Here's the tweet:
Hit this kk and become yourself.

— KOE (@wizkhalifa) January 27, 2016
It's hard to know what exactly he's referencing here, but after Kanye calls him out for tweeting Kim's initials, we come to find out that "kk" is a reference to marijuana, "Khalifa Kush" to be exact. Dude burns so much herb that he's got his own brand. Respect, my dude.
KK is weed fool. Reason's why your not wavy. Go bacc to Swish. https://t.co/7OT4xiQa5V

— KOE (@wizkhalifa) January 27, 2016
More "wavy" talk. Wiz just won't drop it, but considering this was right after Kanye quite literally laid claim to the man's offspring, this is a high-road response. Low-key have to respect that about this dude Wiz.
Kanye would then go completely off course and start admiring Khalifa's tight jeans and saying some crazy stuff about how he wishes he was tall and skinny like him but it's all Gucci because he's the greatest artist to ever live. I don't know how you go from basically setting fire to a man's entire existence to being like, "Yo homie, your jeans are dope. Also, I wish I was built more like you." Real talk, Ye might be bipolar or some.
I love the world bottom line and all I want is peace and positive energy

— KANYE WEST (@kanyewest) January 27, 2016
Yeah okay, player.
As things cool down and Ye starts talking about good vibes and positive energy and shit like that, the Twitter buzz begins to quiet as the wreckage is sifted through and Crying Jordan memes are surfacing. That was until AMBER ROSE ENTERS THE RING FROM THE TOP ROPES AND BURIES YE.
Awww @kanyewest are u mad I'm not around to play in ur asshole anymore? #FingersInTheBootyAssBitch☝

— Amber Rose (@DaRealAmberRose) January 27, 2016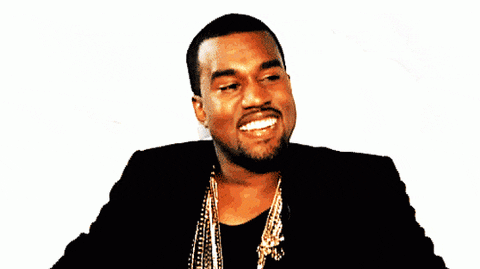 The takeaway from all this: Kanye has a new album dropping soon, Kanye and Wiz have beef, Wiz wears fly jeans, there's a "wavy" style of rap that no one knows about, and Kanye West likes to have his asshole fingered.
That's real..
Image via Shutterstock