======= ======= ====== ====== ====== ===== ==== ====== ====== ===== ==== ======= ======= ====== ====== ====== ===== ==== ====== ====== ===== ====
Most single guys know that planning a fun date idea can be a real pain in the ass. Sure dinner and/or drinks for the first couple of dates works fine, but at some point, you're going to be expected to branch out and show that you're willing to do something that is unrelated to alcohol. After that second or third date, where you've (hopefully) convinced a girl that you're not a serial killer or creep, you transition from the "get-to-know-you" dates to the "see-I'm-a-better-option-to-date-than-most" phase. This is an area that I have consistently struggled with, so I was thrilled to see this list of suggestions for date ideas.
The list goes over ideas appropriate for new couples, to long-term relationships, to married folks. The ones for the married folks tend to be big anniversary gift-type events, like spa days, concerts, or trips abroad, so they don't really need evaluation or criticism. If you're at that stage of your life and relationship, then go ahead and drop the money to take your baby to Europe or whatever. But for the other suggestions, which could apply to dating newbies like myself, I'll give them the old thumbs up or down.
Farmers Market Shopping and Dinner
"Shopping is a great way to get to know another person. You can learn about how they make choices, what they like to eat and how they handle money," New York-based relationship expert April Masini says. "You'll get clues as to whether they're generous or stingy, impulsive or thoughtful, healthy or less so."
Wonderful, a date idea that is going to require me to get up early and spend several hours walking around outside surrounded by hipsters? Oh, and in addition to having to pretend like I know which fruit is ripe or not, I'm going to be judged on whether I'm willing to shell out $12 for tomatoes I could get at Kroger for a sixth of the price? Cooking a meal together is a fine suggestion since it can inevitably transition to some canoodling, but coupling it with a trip to the Farmers Market is just trying to appeal to Millennials. I'm looking for a girl who'd rather go to Costco because getting your ingredients and a year's worth of shaving cream is just an efficient use of my time.
"Netflix and chill," with a theme.
Watch a movie marathon from a specific decade or a favorite actor, and try to keep your eyes on the screen.
As a movie fanatic, I do this one all the time. If you ever mention that you haven't seen any of the movies from the following, expect to have the following in your future: Back to the Future, Jurassic Park, Star Wars, Indiana Jones, or the Nolan Batman movies. Sorry if this bores you, but Julia you went through your whole life having never seen Indiana Jones and that was unacceptable to me in a potential mate.
Text and seek.
"Shawn Schweier, personal development expert and life coach specializing in dating, suggests heading to the local mall for a silly game of hide-and-seek — using text messages or Snapchats to provide your partner with hints to your hiding place. The loser has to buy the first round of Orange Julius."
Do people even go to malls anymore? I just assumed that once people figured out that they can get anything they want delivered right to them, they only existed as abandoned places for survivors of apocalyptic events. This is fine if you're under the age of 21 and can't legally get into a place that serves alcohol. But two adults with jobs, dental insurance, and a 401(k) running around outside a Wetzel's Pretzels trying to track down each other over Snapchat pictures is borderline tragic. Also, Orange Julius is trash, don't @ me.
Free museum or art gallery opening.
"There's no other date that screams hipster like those small evening gallery opening parties. They're free to get into, and there is usually wine in plastic cups and crackers with cheese to set a date in motion. And then there's the art — which is usually local and interesting," Masini says.
Fully on board with this one. Even just walking around a museum or an art gallery is a solid weekend afternoon date before dinner and then drinks. Hitting the opening event just matches those together. If you're in a city with a lot of these opportunities, definitely recommend.
Feed the ducks at a local park.
Are you dating my 91-year old great Aunt Ida? Otherwise, hard pass.
Build a campfire, roast marshmallows, and stargaze.
As someone who lives in a major city, there's literally no place to do this without causing a fire so large people will be outraged when President Trump doesn't address it for weeks afterward. This is cute in theory, but for a lot of us, this requires a pretty hefty trip to a place out-of-the-way. For some living the simple life out in the country, where you do have a lot of open space to build a nice little fire to cozy up next to, I don't think you can go wrong with this one.
It's basically in every romantic movie ever (that I've seen, so like two movies). Also, for a short trip to the country or mountains, this is pretty solid as well. But if you're like me and are terrible around a fire (starting and/or controlling them), probably not the best idea if you don't want to look like a wuss around the gal you're trying to impress. Also Smokey the Bear would cry if you accidentally started a forest fire. Don't make Smokey cry.
Thrifting.
Apparently, this is a big thing for my generation to partake in, but I'll be the one to shit on the concept that it's fine to buy clothes worn by a stranger. It's just gross to be willing to put on something that some nasty ass stranger could have worn without showering for twenty years because it looks cute and doesn't cost as much as some unworn threads. I don't care how many times you wash them, I'm always going to be wondering whether the last guy to own this shirt had a skin condition. It really creeps me out.
In addition to those concerns, this idea is full-blown hipster. I mean how many montages of young people goofing around in a flea market/thrift shop set to a Lana Del Ray song have come out in this decade? More than is acceptable. I will say that you can get some nice, quirky shit to decorate your house or cool vintage gadgets, so this can be kind of a fun activity. I'd recommend making it a scavenger hunt or trying to find the weirdest item for under $5. At the very least, try to find some stuff to take out to the local quarry and smash.
Pretend to be fancy.
"In my city, we all knew the richest hotel in town. It was fancy and really high class. What people didn't know was that there was no reason you couldn't go and explore it," Schweier says. "Have your partner dress up and then take them to the fanciest open hotel (you might want to scout this out first)."
Okay…and do what? Hit the bar? I mean that's fine but it's the basic dinner/drinks we're trying to avoid. Get a room? Sure, we can stay in a hotel and have a mini-vacation…where you don't even get to see any sights. The foundational idea to have a "fancy night" where you go to an upscale place and dress up instead of eating and dressing like the trash you typically are is fine and cute, but it's not some cute adventure. It's just a change of pace, a twist on the same basic night you've been doing forever. So, you're not wrong…you're just not original.
Sign up for a 5K.
Running is the worst. Whatever shred of attraction a girl feels for me will surely be crushed when she sees my sweaty, disheveled self after a run. Hard no.
Sign up for a dance class.
It might be less sweaty than running, but it more than makes up for it with awkward touching and showcasing your lack of coordination.
Dinner and a fantasy.
"Taking dinner and a movie to the next level, sex and relationship expert Dr. Megan Stubbs suggests talking about your wildest fantasies over dinner and heading to an adult store after."
This is meant for longer-term couples (I hope) whose sex life has clearly devolved to the point that one of them is cheating. Good luck at this last ditch effort to save the relationship and prevent one of you from having to move to a shitty studio.
Coffee shop crawl.
"Because coffee shops are hipper than ever, and a sober date is always a good thing."
I respond thusly: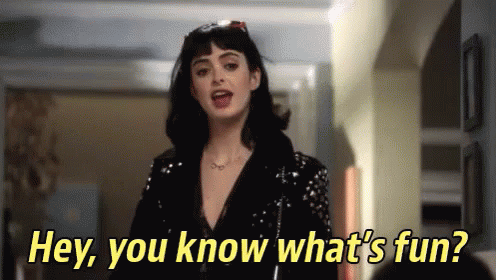 Fondue night.
Do people even still eat fondue? I saw it on an old episode of the Brady Bunch and just assumed people stopped this ridiculous practice at some point in the 80s. But hey, if you want to eat veggies coated in luke-warm cheez-wiz, go for it. .
[via She Knows]