Every Monday morning, I drag myself into the office. While I'm supposed to be doing the work that they actually pay me to do, I put together a little list of five people that had a worse weekend than you. Why? Well, let's be honest: laughing at the misfortune of other people, famous or not, makes us feel better about ourselves, and we all need that as we start off the work week.
But there's also another time that looking at the bad luck of others can lift our spirits: the end of the year. And let's be honest, we've never needed it more than the end of this year in particular, because for all intents and purposes, 2016 was a clusterfuck. We elected an orange guy as our President, there were devastating terrorist attacks both at home and abroad, some places flooded while other places burned, and we have to wait until July 2017 for a new season of Stranger Things.
So in an effort to make ourselves feel better about the hot mess that was 2016, here are five people that definitely had a worse year than we did.
Hillary Clinton
I very rarely include politics in the weekly version of Five People because it's so divisive, and the point of the column is to bring people together in our mocking of others. But Hillary, and the nightmare that was her 2016, simply can't be ignored. Let's take a look back at the lowlights, shall we?
March 1: Bernie wins CO, MN, OK, and VT on Super Tuesday. Hillary wins seven other states, but still, this must seem like sort of a fever dream for HRC. Wasn't this thing supposed to be a lock?
March 5 – March 8: Bernie wins ME, MI, KS and NE. What the fuck is going on here?
March 22 – March 26: Bernie wins ID, UT, WA, AK and HI. Seriously, what's happening? This cannot still be about the damn emails. No one cares about your damn emails. Even Bernie.
June 6 — Hillary passes the minimum amount of delegates required to secure the Democratic presidential nomination. But yet, Bernie is still hanging on like that dude you banged once but won't stop texting you.
July 12: Bernie (finally) endorses Hillary. And the Democratic world is at peace…except for those weird hippie Bernie people that won't shut the hell up.
July 28: Hillary accepts the Democratic Party presidential nomination, becoming the first female presidential nominee of a major party in U.S. history. Unfortunately, she, and this historic moment, is upstaged by Bill and his apparent love of balloons.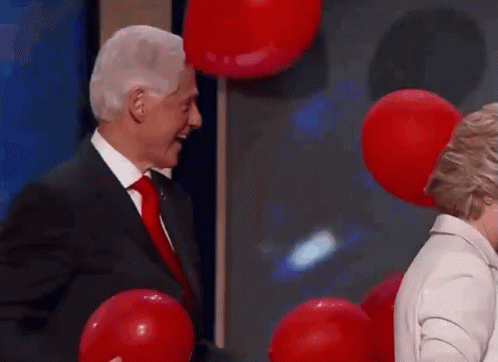 October 4: Democratic Vice President candidate/soccer dad Tim Kaine loses the only vice presidential debate to an animated homophobic mannequin named Mike Pence.
October 7: Tapes are leaked out from Access Hollywood showing Donald Trump and Billy Bush bragging about sexual exploits in 2005. Live shot of Hillary on 10/7/2016:
October 9: Clinton is stalked by an orange man with a bird nest on his head during the second presidential debate.
October 19: Clinton is called a "nasty woman" during the third presidential debate, but misses the opportunity to introduce "Nasty Girl" by Vanity Six as her new campaign song.
October 28: FBI Director James Comey says the FBI is reviewing new emails which were sent or received by Clinton aide Huma Abedin that were are discovered as part of an investigation into Abedin's husband Anthony Weiner. Weiner: the gift that just keeps on giving…dick pics that no one wants.
November 6: Comey tells lawmakers that the new emails do not change the FBI's opinion that Clinton should not face criminal charges. Given that the election is in two days, absolutely no one notices.
November 9: Hillary concedes to Trump in the wee hours of the morning, and then disappears into the woods, never to be seen again.
Harambe
Poor Harambe. Back in May, some three-year-old little fart of a toddler broke into your home in Cincinnati, so you got a little rough with him. I can't say that most of us probably wouldn't do the same thing. I mean, that kid was invading your space. But then some dickhead zoologists decided that instead of tranquilizing you like they do to rabid raccoons and/or Donald Trump, they would instead kill you with a single gunshot on the day after your seventeenth birthday.
Cut down in your prime, you became the stuff of internet legend. People took their dicks out in tribute to you, although no one is exactly sure why. A zillion internet memes were dedicated to you. At one point in the presidential election, you polled higher than Green Party nominee Jill Stein. Yes, you, a dead 440-pound male silverback gorilla named after a Rita Marley song polled higher for President of The United States than a living human being, and you weren't here to see it.
But the worst thing that happened to you, the dearly departed Western lowland gorilla? As of December, you were rarely mentioned, following Cecil the Lion into the annals of "things people were really outraged about and then promptly forgot."
Rest in peace, buddy.
These Rest Of The Animal Kingdom
Yeah, Harambe died, but there were also some other animals that had a crappy time of it in 2016. And since I generally like animals better than people, I felt that deserve recognition.
There's the beaver that went postal in the dollar store Christmas aisle:
The deer that got stuck in an American Eagle store:

Some murderous penguins:
The snake that got stuck in a beer can:
And this bald eagle:
The animal kingdom needs to step up it's game.
Lindsay Lohan
Honestly, for the first six months of 2016, it seemed like the La Lohan may actually have a quiet year. She was off probation, she had found religion and was studying Islam, and she engaged to some multi-millionaire Russian dude.
But apparently turning 30 in July sent the former actress off the rails, because shit went downhill real quick from there. First, Lohan accused her fiancé, 23-year-old Egor Tarabasov, of cheating on her in a series of Instagram photos. While most of the rant has been deleted, one photo survived:
The engagement was soon off, but Lohan did get to keep the $300,000 ring. So all was not lost…except maybe a finger to wear the ring on. In early October, Lohan was boating in the Mediterranean when she attempted to anchor the boat and got a digit caught in the chain, severing part of it off. Luckily for the former star, doctors were able to reattach the finger. No word on whether or not they were also able to resurrect her career.
The Cleveland Browns
I've included the Browns in the weekly version of Five People so often that I had to make a conscious decision to stop, because it started to almost feel like bullying. While they are currently on track for a 0-16 record for the 2016 season, let's not forget that the Browns' shitshow of a year actually started back in January, when the always edgy Johnny Manziel just decided to stop showing up for work as the team's quarterback.
The team then fired head coach Mike Pettine and general manager Ray Farmer following a 3-13 season. I assume the reasoning for that had to be something along the lines of "Well, it's not like it could get worse." And it almost seemed like it might get better: the team finally released Manziel in March, and hired former Cincinnati Bengals offensive coordinator Hue Jackson as head coach and signed Robert Griffin III as QB. No one was thinking the Browns were going to be Super Bowl bound, but it had to be at least a little bit better, right?
Yeah, well, you know what they say about the best laid plans. Delicate flower Griffin went down in Week 1, followed by back up QB Josh McGown in Week 2, wide receiver Josh Gordon went to rehab, and it was pretty much every Browns fan worst nightmare from there. The team started the season 0–13, their worst 13 game start in franchise history. They clinched a losing record for a franchise record ninth straight season, failed to make the playoffs for a franchise record 14th consecutive season, finished in fourth place in the AFC North for the sixth consecutive season, and set a franchise record 16 straight losses dating back to their final three games of the previous season.
On the upside: it literally can't get any worse for the Browns, since it's impossible to do worse than not winning a single game, so there's hope for 2017. At the very least, maybe your fans will get their shit together..
Image via Shutterstock