======= ======= ====== ====== ====== ===== ==== ====== ====== ===== ==== ======= ======= ====== ====== ====== ===== ==== ====== ====== ===== ====
I never thought I'd say this in my entire life, and I may condemn my own soul to eternal damnation just for writing it, but I need to let it out: I'm getting bored with the McDonald's menu.
Phew. It feels great to get that off my chest. But let me clarify what I'm saying, for those of you who are lighting your torches and sharpening your pitchforks. How long has it been since we've had a proper change in the McDonald's menu? Can you even remember the last major addition to the menu, other than that weird period a few years back when the McRib was back for, like, a whole year and I ate about 50 of them? (I still haven't lost the baby weight from all of those delicious imitation-pork sammies, by the way.)
While my love for the McDouble knows no bounds, and McD's breakfast menu is without peer or equal on this planet or any other, the regular menu lacks. In a time where they're losing ground to fast, casual restaurants like Panera and Chipotle (the latter of which they had a majority stake in from 1997 to 2006) and risking losing potential growth opportunities to Chick-fil-A, they need to do something quick. Perhaps McDonald's should take a look at some of the fantastic items on the menus of their international counterparts for inspiration. Changing things up with some international flair could be a smash success for the golden arches. Here are a few items we'd love to see in the good old US of A.
1. Mega Tamago Burger – McDonald's Japan
It's a double Big Mac with a McMuffin egg patty and bacon. For those of us, myself included, who want to see McDonald's breakfast available all day, this could be a big step in the right direction. That direction may or may not be toward an emergency room, but you get the drift.
2. McCurry Pan – McDonald's India
India is a tough nut to crack. Forty-two percent of the population doesn't eat meat, the Muslim population won't eat pork, and the Hindu population considers cows to be holy. Because of that, they will not consume beef. As such, the company has vegetarian McDonald's chains in India, and the rest only serve chicken. This is chicken and vegetables in a curry sauce, served inside a flaky, crusty bread bowl. Even a carnivore would find this tasty.
3. McShawarma – McDonald's Israel
Israel is very similar to India in the respect that they had to change the menu slightly to fit dietary restrictions. The country has two different versions of their restaurants: kosher and non-kosher. Fun fact? Israel is one of two countries that McDonald's allows to actually grill their burgers on charcoal. The other is Argentina, which is the only other country to have a Kosher McDonald's. This means the burgers and buns are bigger, and you really can taste the difference–trust me, I've tried it. McDonald's in Israel also gives us the McShawarma wrap, as well as this gem of an ad, based on the famous Royale scene from "Pulp Fiction." Classic.
4. Greek Mac – McDonald's Greece
This sandwich is so deliciously cliché, and as a proud, half-Greek man, I do not care one bit. Chicken or beef with tzatziki sauce, lettuce, and tomato on a pita. Honestly, I think most things should be eaten with tzatziki, so McDonald's is no exception. I may get two cheeseburgers, bring 'em home, put them on a pita, and eat them later while sobbing to myself. Should be a fun time.
5. Deluxe Brekkie Roll – McDonald's Australia
I didn't think you could improve much on the McDonald's breakfast menu or give me something that could deviate from my usual order of a Bacon, Egg & Cheese McGriddle, Bacon, Egg & Cheese Biscuit, and self-loathing, but this could do it. Cheese on the bottom, topped with sausage, an egg, bacon, and spicy tomato sauce on a French roll. That's just deadly.
6. McLobster Roll/McHomard – McDonald's Canada
Technically, this sandwich is available at certain locations in Maine, but it's really a Canadian thing. In fact, it's not even located in all of Canada–only in "maritime locations." I know you're thinking, "Lobster at McDonald's is the fastest way to get food poisoning." But according to a review from SeriousEats, it's actually pretty good and reasonable. Looks pretty good, too, actually.
7. Pizza McPuff- McDonald's Morocco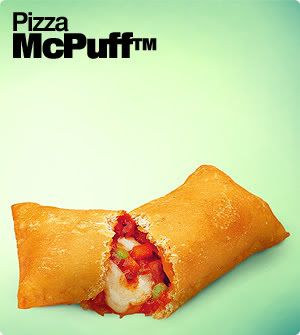 It's a giant pizza pocket. What more do you need? It's a pizza roll on steroids, and even my pizza-snob ass is drooling over this thing.
8. Benedict Bagel – McDonald's New Zealand
I'll be honest with you. This sandwich is barely different from a standard Bacon, Egg & Cheese Bagel you can get off the McD's breakfast menu here in the U.S. It has just one small but major difference–it's topped with hollandaise sauce. That's right, bitches, MCDONALD'S BRUNCH. Boom. That item could change the game all on its own.
9. Chicken Maharaja Mac – McDonald's India
This isn't the first time you've seen the Indian version of McDonald's on this list, and it probably won't be the last. They really know how to rebuild a menu and knock it out of the fucking park. Frankly, this is just a Big Mac with spicy chicken patties instead of beef, but my goodness, what a difference a meat swap makes. As anyone who's a fan of Wendy's Spicy Chicken can attest, a little kick to your poultry can make all the difference.
10. Das Nürnburger – McDonald's Germany
Yeah, that's a bratwurst burger. Not just a burger made of bratwurst. It's a burger patty TOPPED with bratwurst. It's like a Chicago Bears fan's wet dream. This turns any ordinary burger into a full meal–who WOULDN'T want meat on meat?
11. Cordon Bleu Burger – McDonald's Poland
At this point, there's a puddle of drool under my desk that's about up to my ankles. It's a cheeseburger topped with a fried chicken patty, bacon, and mayonnaise. And that chicken patty is stuffed with ham. And were I a man who had access to this sandwich, my arteries would be stuffed with said sandwich. I'd die blissfully happy.
12. Mediterranean Chicken – McDonald's UK
The U.K. isn't really known for having the best food in the world, save for Indian (and we've covered Indian food a-plenty here) but this chicken sandwich actually sounds pretty dope. Mediterranean spices, diced red and yellow peppers, and sweet and spicy tomato sauce on a foccacia bun? All this thing needs is tzatziki sauce and we're good to go. Yiassou, flavor-opolis!
13. Baguette Sandwiches – McDonald's France
The people who brought you French fries (AKA freedom fries) just changed the game again. You can either get a chicken sandwich with fried potato cakes and curry sauce or a burger with beef patties, fried potato cakes, and mustard. Stop. I want it now. In or around my mouth.
14. McSpicy Paneer – McDonald's India
Last Indian entry, I promise. How could I NOT include this sandwich? It's a deep fried block of Paneer cheese smothered in a spicy, crunchy batter, topped with spicy tandoori mayonnaise on a traditional sesame seed bun. It's also more than 700 calories a sandwich. They should just rebrand it as "The Death Wish" in America. It would sell like hotcakes…or, rather, fried cheese.
15. Poutine – McDonald's Canada
There's nothing I can say that the McDonald's official description of the side dish doesn't cover. Rich and tasty gravy? Melty, mouthwatering cheese curds? On our World Famous Fries®? You better believe it! Poutine is here and it's better than ever. If we do say so ourselves, "Yeeeah, that'll do it for me, I need some new pants."
16. The Bistro Gourmet Menu – Certain McDonald's Locations in Orlando, Fla.
Okay, this may be cheating a bit, but hear me out. Most, if not all, of the McDonald's restaurants in central Florida are owned by a man named Gary Orether, who made his mark in computers at a big company in Ohio but walked away because he really wanted to create a legacy for his family. He found that in McDonald's. He now owns 26 restaurants and has more than 900 employees, and one of his 26 restaurants is the world's largest McDonald's, complete with a giant play area. That's not all, though. He petitioned McDonald's to let him bring in a gourmet chef to make their own menu. After a struggle, they let him. At this McDonald's, you can get pizza, pasta, artisan salads, gourmet paninis, wraps, and desserts, and it's all pretty awesome. Gotta give it up for an American success story, right?
17. Beer – Various McDonald's Restaurants Around The World
Good Lord, does this not look like one of the tastiest and most delectable beers you've ever seen? Perfectly golden, frosty, and cold–that's the kind of beer you get at a McDonald's outside this country. You can get them in Germany, Hong Kong, France, Italy, Spain, the Czech Republic…the list goes on and on. If McDonald's was interested in getting more butts in seats, they ought to look into serving booze right here in the USA. People go to McDonald's constantly for drunk food anyway, so why not just cut out the middleman and let them get tanked right there in the restaurant? Just for the love of God, do NOT let people order beer via the drive-thru. That's a recipe for disaster.