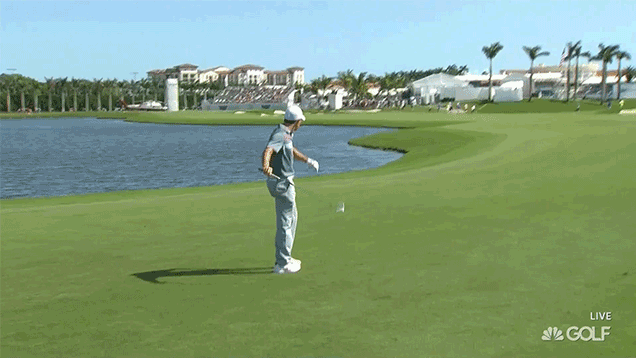 This weekend's Cadillac World Golf Championship was a notable event for multiple reasons. In just his fifth start after returning to golf from a six-month suspension, Dustin "Nose Candy" Johnson cemented his reputation as a top player with a solid win over fellow long-hitters Bubba Watson and J.B. Holmes. The world learned that Donald Trump looks much fatter in real life than he does on Celebrity Apprentice. But most importantly, Rory McIlroy tossed his club into the water during the third round, reigniting the oft-held conversation of whether it is appropriate to throw your golf club out of frustration. As a twenty-plus handicap golfer with little to no credibility on the subject, I endeavor to definitively answer this burning question once and for all.
Basics
Throwing one's club after a bad shot is the ultimate symbol of frustration that is marginally socially acceptable. Sent your sixth tee shot in a row out of play? Throw your driver — it's not doing you any favors. Five-putt the short par 3? Send Scotty Cameron for a spin. Did you just spend four shots getting out of the sand in front of the cart girl? You needed a new sand wedge anyway. To get to the point of club throwing, you need to be truly frustrated, and nothing gets a golfer to that point like repeated failures. Notice that the common thread between these three examples is the fact that the throw comes after multiple bad shots. It takes time to get to that point, so under most circumstances, you should not toss your club on the front nine — there just hasn't been enough time to build up the necessary anger.
The threshold of frustration for a club toss is different for every golfer. If you are a scratch golfer, your threshold for bad shots is much lower, and understandably so. You expect to play decently well on each hole and I wouldn't blame you for tossing your putter if you three-putt eighteen. But if you are a bad golfer like I am, your threshold should be high. After all, you expect to hit at least one terrible shot on each hole. If I were to throw my putter after every three-putt, I would have tennis elbow. Keep in mind your level of play when considering when to throw.
How Many Per Round?
Limit your club tosses to three per round of eighteen, although if you frequently bump up against this limit, you will develop a reputation. In fact, it is better if you try to keep your throw numbers as low as you can so when you do choose to let it fly, it has more effect. Additionally, you risk damage to your clubs when you throw them, so consider the fact that you have six figures in student loans to pay before you throw.
Audience And Location
Who are you playing your round with? If you are playing with a close friend, throwing your club will probably just make him laugh at you. If you throw your 7-iron while playing with your father, he will probably shake his head in disappointment. If you are playing with your boss, I would recommend releasing your frustrations in a different way. The exception to this is if your boss throws his club — then feel free to toss your putter if you are having an exceptionally poor round. Just don't make it look like you are mimicking him, or otherwise you may find yourself with more frustrations than just a shitty score.
You should also consider where it is acceptable to throw your club. If you are lucky enough to be a guest at a high-end country club, you might want to keep your hands on your grips for the duration of your round. If you are at a shitty muni course getting loaded with your undergrad friends, feel free to rip off as many club throws as your meager paycheck will allow.
Throwing Technique
You're not throwing a baseball here, so don't try to toss it overhand. Take a look at Rory's toss from this week to get a good look at a tried and true throwing technique — just don't toss it in the drink if you can't afford a new one..
Image via YouTube