======= ======= ====== ====== ====== ===== ==== ====== ====== ===== ==== ======= ======= ====== ====== ====== ===== ==== ====== ====== ===== ====
Confession: The Lion King is hands down my favorite Disney movie. I know it's not as cool as any of movies in the Toy Story franchise or as female-empowering as Frozen, but as an animal lover, The Lion King is where it's at. I've probably watched it at least 50 times…so imagine my surprise when Rob Minkoff and Don Hahn, the director and producer of the classic, dropped this bomb: Mufasa and Scar are not brothers.
What. The. Fuck. Seriously, Mr. Minkoff and Mr. Hahn? Do you not remember that the King actually referred to Scar as his brother? Or that the movie is loosely based on Shakespeare's Hamlet, where a young heir to the throne (Hamlet/Simba) seeks vengeance for the death of his father (King Hamlet/Mufasa) by overthrowing his killer, who is also to his uncle (Claudius/Scar)?
Well, here's the filmmakers' explanation: Mufasa refers to Scar as his brother simply because they are part of the same pride, or group of lions. Hahn elaborates,
There was always this thing about well, how do you have these two [male] lions? Occasionally there are prides that do have two male lions, in an interesting dynamic because they're not equals. One lion will always kind of be off in the shadows. We were trying to use those animal truths to underpin the story so we sort of figured Scar and Mufasa couldn't really be from the same gene pool. In fact, that's what [Scar] says. There's a line, he goes, 'I'm from the shallow end of the gene pool.'
My mind is blown…does this mean my entire childhood was a lie?.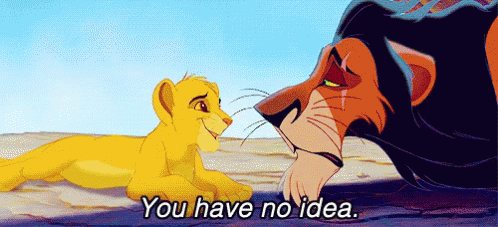 [Via Someecards]