It's ironic — I'm actually writing this right now at an airport bar with a margarita in-hand. I'm headed to Denver for a week of skiing, fun, and to keep a tradition of St. Paddy's day debauchery with a great friend alive. But earlier this month, something devastating to my party agenda happened. I was denied vacation time for a bachelor party. I know it's ridiculous to get upset about not having vacation time on vacation, but hear me out.
The plan was to drive down to Charleston with a group of about ten guys, go fishing, consume an obscene amount of alcohol, and eat every southern delicacy that would cross my path. I put in for the time over a month in advance, but unfortunately, three other employees beat me to it. Let me tell you that it was a very tough pill to swallow. When I realized that this vacation was not going to happen, I went through a rollercoaster of emotions, also known as the five stages of dealing with vacation denial.
1. Denial
The first thing I dealt with was denial. "How the fuck could this get denied?! I even lied and said it was for the wedding and not a bachelor party to H.R.?!" was the first thing that popped into my head when my manager said there was an "issue with the date." My manager told me that three other employees had already requested for that time off, but I assured myself that I could get lucky and swap time off with at least one of them.
2. Anger
How in the fuck could three other people possibly have put in for that date? I'm over a month out and it's already booked? Do they even realize you never get another bachelor party opportunity like this?! Once that last guy in your circle of friends (besides me) pops the question, it's all over for these types of things! "This is bullshit," I thought, "I'm going on this fucking vacation."
3. Bargaining
"Hey, do you think you could swap me days for the 9th?" I asked. My voice might have cracked as tears welled up in my eyes and I looked up from my knees, begging Kath to switch me days. "Sorry, I can't. I already made plans," she snarked back as this was my last ditch attempt at redemption. "Look, you can have both of my days off if you just switch me for this one day…" I pleaded. Unfortunately, she still refused my offer and I had no one else left to bargain with. Fuck you, Kath.
4. Depression
I texted Brad, the bachelor.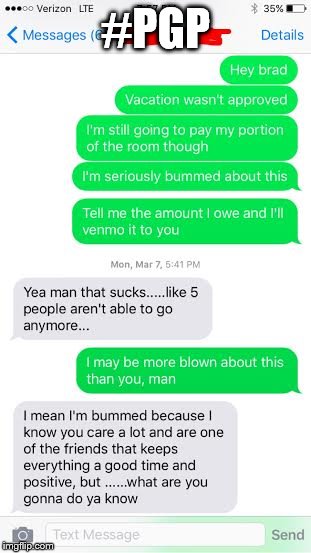 This was absolutely devastating, because frankly, Brad is a great guy. This occasion was supposed to be a weekend all about a great friend… one last hoorah for us to celebrate the wild times, the nostalgic memories, and maybe one or two drunk toasts to his wonderful bride-to-be. Not only do I feel horrible backing out, but I know I'm missing some great memories with some guys who really matter a lot to me. I'll see them all at the wedding, I guess.
5. Acceptance
At this point, I've exhausted all my outlets. The vacation will not happen. Someone even suggested I call out sick that day (bold suggestion, Tine Vogue). However, getting chewed out and more likely fired is not worth the risk. I've accepted defeat and the FOMO is all too real.
"It's going to be okay. I can't fight it, I might as well prepare for it."
I'll be at work getting Snapchats of my friends drunk on a fishing charter, but I will survive. Hopefully, I will have other bachelor parties and I will do at least one shot for Brad on the next one. I'm actually about to crush my airport margarita now. This one's for you, Brad. I'm sorry I can't make it out.
We all need a little R&R on occasion, for whatever reason. Maybe it's a wedding, baptism, or even just going out to have fun. But unfortunately, that time is not always allocated or guaranteed. I guess that's why you should make it count when you do get the chance to travel, and milk the trip with an extra sick day. BTW, boss, if you're reading this, I may be out next Monday as I take a figurative and possibly literal red eye back from Denver this week. .
Image via Unsplash