If you have read anything I have written (Hi Mom), you know I'm no stranger to dudes saying some pretty self-incriminating things on dating apps and websites. Whether it be in their profile or on a messaging platform, this sort of behavior is nothing new. OkCupid is a particularly grungy brand of cesspit, an aesthetic I was really into circa 2015. I'd go with the whole "it was a dark time in my life" spiel, but if I'm being honest, I'm still there.
While I have calmed down a bit, I encountered plenty of weird stuff in my heyday that still haunts me. While most of these dudes were not worth engaging, some of them were fun to mess with. This is one of those stories. Our guy has since deleted his account, hence the lack of photo, but the godly souls at OkCupid keep the messages archived just in case you are in the mood for a nostalgic cringefest. Retrieved for your viewing pleasure (and inevitable heebie-jeebies) is a play-by-play of how I went from feigning interest in an offer to pitching the entirely fabricated premise of a sci-fi porno.

This was his opener. Not the weirdest I have ever gotten, but it is up there. OkCupid is not for the faint of heart. If a girl is uncomfortable receiving messages of this nature, she will not last long. This kind of stuff is why Bumble is as popular as it is. Think about that for a second. An entire company making bank off the notion that guys screw everything up and therefore cannot have nice things. It is one of the more amusing injustices of this world.
Anyway, I usually ignore messages like this. The most I'll do is chuckle and toss a screenshot in the chat. But on this particularly hungover morning after Halloween, I felt like dipping my toes into the dark world of internet trolling. So, I wiped my Gene Simmons makeup off from the night before and took off running.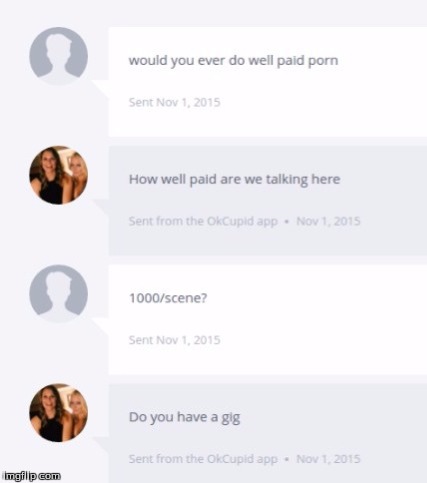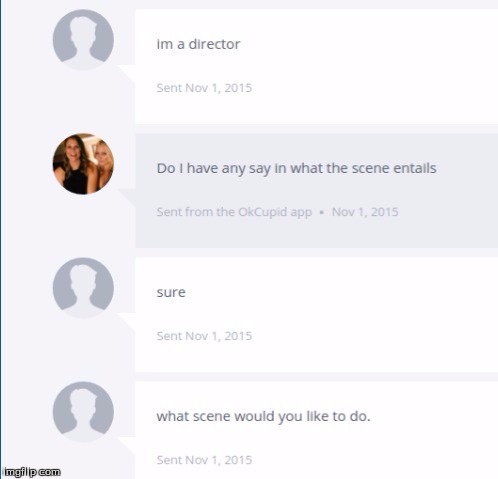 Well shit. This is where I begin to panic. I know the first rule of trolling is to do so at your own risk, but hungover-me was not taking future-scaries-riddled-me's welfare into account when setting this up. He thinks I'm serious. I'm going to have to reject him at some point. Is it easier to just do the porn? How long does it take to shoot a scene? Am I better off going down that road? After a violent internal battle that ended in my ultimate acceptance of my new lifestyle, the clouds opened up and I realized the only way out of the woods was to pitch a ridiculous hypothetical porn scene using my limited intel of pornographic story-line formulae. Here goes nothing:

I believe it is worth mentioning I dreamed this up from my friend's passenger seat in a Jack in the Box drive thru. If there is one thing I can be remembered for after I die, this would be it. You're welcome, dude. I just made you millions. Can I go now?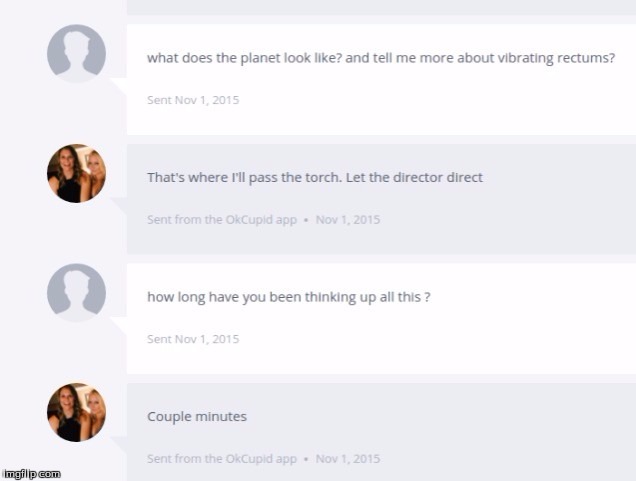 Perhaps I need to reiterate: I just made you millions. I can't go handing out too many freebies. I've got my alcoholism to pay for.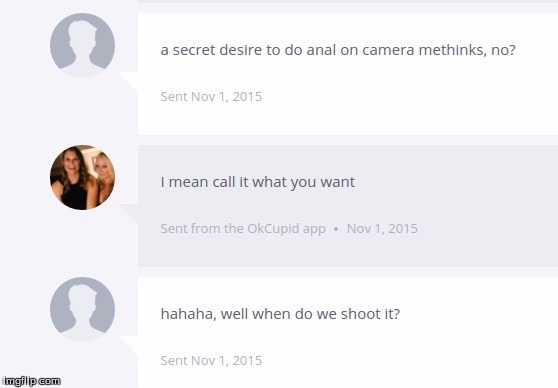 My fun has come to an end and I'm realizing I need to bring it home. Either he still thinks I'm serious or he's so used to being trolled that he has learned to roll with it. Either way, I need to lose this guy. "Methinks" has me picturing some crusty fingered fedora-clad, greasy-haired, neckbeard-having dungeon dweller on the other side trying to trick unsuspecting women into getting naked in his basement. I'm not only doing this for me anymore.
I don't, sir. Nevertheless, I've heard brilliant minds are a sought after quality for women in the porn industry. Maybe I need to consider a career change for an opportunity to contribute to the magic behind the camera. I'm not an avid porn viewer but I can only imagine there is a corner of the market for this. The industry could use a voice at the writers table pitching stories of female empowerment that just so happen to revolve around ass play. Right?
We will never know if our friend was able to cast a leading lady using this method. However, I can safely assume – perhaps in more ways than one – he did not walk away from our conversation empty-handed..
Image via Shutterstock