Dear New Orleans,
It's seems like just yesterday I was packing my finest Hawaiian shirts for a bachelor party I'd never forget. I was amazingly prepared for the flight seeing that I managed to find time to bake a few edibles to eat before takeoff. I know it's been a few months, but the other day I reached into my burgundy blazer front pocket, you know the one I wore when my buddy Bumpy and I crashed that bachelorette party, and found this:
#TBT #NOLA pic.twitter.com/uYs6Niscid

— Shibby (@DrShibby) January 7, 2016
Pulling all of that out brought back a flood of fond (albeit fuzzy) memories. Hell, I remember landing in your fine city already three sheets to the wind from the shot of Rumplemintz, a morning smoke session, road beers, aforementioned edibles, airport margaritas, and whiskey ginger compliments of Southwest Airlines.
Even though I was hammered yelling, "Zatarains!" before noon, you welcomed me (and over fifteen other guys) into your loving booze-filled city with open arms and jazz permeating through the air. Maybe it was just because it was the French Quarter Festival, but I like to believe it was the magic of NOLA. Even your fine law enforcement couldn't bring me down because they were all about letting a bro drink his face off with as many cans as he could carry due to the fact you can drink on the street in sweet New Orleans.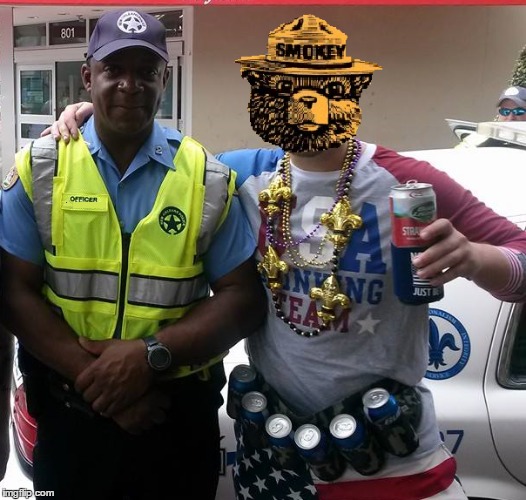 Drinking until my wallet or body could no longer handle it proved to be no problem because the bars don't close and you can sleep when you're dead, or flying home. Mechanical bulls were plentiful, the women were topless, and fraternity formals were seen from balconies screaming, "Show us your tits!" only to be greeted by a hairy twenty-something year old's ass with a thirst for beads and mooning the general public. The sugary souvenir grenades were the weapons of choice, and I had an arsenal rivaling that of a Rambo on a bender. Beers were always on special and strangers were quick to buy a round down in New Orleans.
Purveyors of peep shows beckoned us from every street corner to see their girls as we counted the C-section scars of strippers to see there tenure in the game much like you would count the rings of a log to see the age of a tree. Even though it is frowned upon to swing yourself around the pole on stage, it takes much more than that to get kicked out of a strip club in NOLA.
It's not just the booze or the girls that make NOLA, though. The city's heart and Creole soul shine through with the amazing deep fried and hearty food needed to fuel any alcohol blackout bender. In no other city can you be beckoned into a southern corner dive restaurant by a giant man who calls himself "Big Dog" for some of the best Po' Boys, biscuits, and grits that side of the bayou. While at the same time you can ball out for a five star meal at Red Fish Grill, or eat some 4 a.m. beignets at the Café Du Monde with an Asian bachelorette party from Wisconsin who surprisingly bought you a few drinks.
I may have more bachelor parties and trips to other cities, but you NOLA, I'll never forget you. Maybe it was getting pulled up on stage to sing Beastie Boys with the cougar who said I was too handsome to be sleeping alone that night at the Cat's Meow (bless her), paying the mechanical bull operator an extra five spot to flip an already drunk and cocky friend off in record time, or hearing about my friend pissing his pants at the urinal because he was too drunk to unzip… I can't quite put my finger on it but those few days we had were special, NOLA.
I guess what I'm trying to say is, "Thank you, NOLA." Thank you for the missed love connections, great memories, good food, elevated BAC, and $100 from roulette at the casino. There may be other bachelor parties in other cities, but I left my heart and liver in New Orleans.
Forever Yours,
Shibby
P.S.
I'm not even mad about that guy who swindled us for $60 of oregano and paper towels. It taught my friend a valuable life lesson about buying drugs from strangers.
P.P.S.
Tell Charleston I'm coming. #Smut2016 .