======= ======= ====== ====== ====== ===== ==== ====== ====== ===== ==== ======= ======= ====== ====== ====== ===== ==== ====== ====== ===== ====
There are a few things that would describe as my personal kryptonite – things that will stop me in my tracks and prevent me from doing anything else. Among them: free pizza, a new girl showing up on my ex's Instagram, and a Law and Order: SVU marathon. Unfortunately for me, that last one happens at least once a week. In fact, there is even an entire Twitter account dedicated to letting you know if SVUis on the biggest runner of marathons, USA, at any given time:
When you get up off the couch and realize you've been watching SVU all day pic.twitter.com/942zJyLp3k

— Is SVU on USA now? (@IsSVUonUSAnow) October 29, 2015
Being a self-anointed SVU addict/expert, I figured it was my duty – no, my obligation – to power rank the sixteen best "regular" characters on Law and Order: SVU for you. Whether you agree or not is up to you – frankly, I don't really care. I was just looking for a way to justify why I didn't leave my house last weekend.
16. Detective Dominick Carisi, Jr. (Peter Scanavino)
2014-current
I don't know you well enough to make a judgment yet, Detective Carisi. But you get put in last place just for that porn 'stache.
15. Detective Monique Jeffries (Michelle Hurd)
1999–2001
Thank you for reminding us, because I had pretty much forgotten about you. The only thing I remember is that you confessed to the department shrink about that one time you banged a rape suspect; coincidentally, that's the thing that also got you the boot.
14. Assistant District Attorney Kim Greylek (Michaela McManus)
2008–2009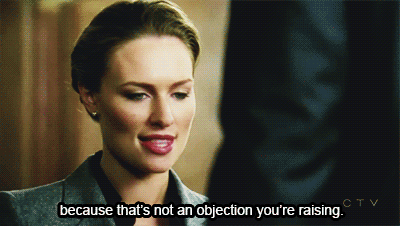 Greylek was no Alexandra Cabot or Casey Novak, but she held her own with the detectives of SVU. Unfortunately, we didn't get to know her that well since she only appeared in 13 episodes.
13. Detective Chester Lake (Adam Beach)
2007–2008
The only picture I could find of Lake was one with no lines – which is pretty fitting because dude served no point aside from taking screen time away from my beloved Munch and Fin. It seems producers quickly realized this and wrote him off the show, carted off after killing some dude, never to be seen again.
12. Detective Amanda Rollins (Kelli Giddish)
2011–current
Yes, Rollins, we've seen the crazy – and it's you. Even if we put aside your gambling problem and the fact you managed to get yourself knocked up by your former commanding officer (have you never heard of a condom?!?!), the bottom line is that you've got straight-up crazy eyes and it scares me that you have a gun.
11. Detective Nicholas Amaro (Danny Pino)
2011–2015
I don't have much to say about Amaro, the character. He was pretty blah during his four seasons on the show, despite "anger issues" being one of his major storylines. But he sure looked pretty.
10. Assistant District Attorney Rafael Barba (Raúl Esparza)
2012–current
Personally, ADA Barba doesn't do it for me. Maybe I'm a secret feminist who just likes the female ADAs better, or maybe it's because I can't forget the "Blackmail" episode during season 12 of original L&O when he played a scumbag who blackmailed Samantha Bee. Heads up to Dick Wolf: sometimes that habit of re-using actors in different roles can backfire.
9. Medical Examiner Melinda Warner (Tamara Tunie)
2000–present
Warner speaks for the dead when they can't speak for themselves… but she also does it with a side of sass that is totally necessary since the medical mumbo-jumbo she's responsible for can get a bit boring. The doc has been seen more sporadically since she was shot in season 11's finale, which is a bummer since she killed it (literally and figuratively) in the episodes she's played a more active role in (see "Blast", season 7).
8. Assistant District Attorney Casey Novak (Diane Neal)
2003–08, 2011–12
It took me a bit to warm up to ADA Novak, particularly because every time I saw her, I was reminded of the SVUepisode "Ridicule" when Diane Neal and her friends raped a male stripper. (Seriously, Dick – there's like a million actors out there). But I finally got my mind around her as ADA during the episode "Night" in the 6th season – and not just because Bradley Cooper was hitting on her. Novak's sympathy for the victims and willingness to put herself and her career on the line made her one of my favorites.
7. FBI Special Agent George Huang (B. D. Wong)
2001– 2015
I must admit, I've always been a bit confused by Dr. Huang's role here. He technically works for the FBI, but it seems that he's around the squad room way too much to be receiving a federal paycheck. Anywho, as the squad's resident profiler/psychiatrist/Asian gay man, Huang brings reason and sympathy to the squad on the regular. Much like Novak, he also puts his career on the line when necessary (see "Users" during season 10).
6. Assistant District Attorney Alexandra Cabot (Stephanie March)
2000–03, 2005, 2009–12
This lady has more lives than a cat. First she's "killed" in a drive-by shooting in season 5's "Loss." Then it's revealed in season 6's "Ghost" that she wasn't dead at all, she was just in witness protection – and she disappears at the end of that episode again. She next shows up in the short-lived L&O spinoff, Conviction, and shows up back on SVU in season 10, replacing the quickly departed ADA Greylek. Then she gets booted to the Appeals division for a while during season 11 before she reappears in the squad room a few episodes later…and then decides to quit to go help sexual assault survivors in the Congo. And then just when you think she's gone…she reappears in season 13 to try a few cases before popping off again for parts unknown. Seriously, she's like that guy you go on one date with who keeps randomly "showing up" at the same bar as you. But I have to admire her persistence.
5. Detective Olivia Benson (Mariska Hargitay)
1999-current
Sorry, Olivia, but yes I'm totally serious. Now I know you're so popular that Taylor Swift named one of her cats after you, but quite frankly, I find you a little bit annoying. On the upside, the woman is a Survivor with a capital S – being the child of rape, repeated attempted sexual assaults, and kidnapping – but her personal melodrama (her half-brother, her relationships, her adopted kid) take away from why I watch the show: the cases. Less of Olivia's personal life, please.
4. Captain Donald Cragen (Dann Florek)
1999–2015
Even though I wish the retirement age for my job was 30 so I could get the hell out of here, TV forced retirement ages are bullshit because it meant that our beloved Captain Cragen was taken from us far too soon in season 15. During his time on the job, the recovering alcoholic was relieved of his captain duties a number of times – usually taking the heat for one of his detectives. Isn't that the kind of boss you want?
Sidenote: Counting his initial three years on the original L&O, Cragen appeared in more episodes of the Law and Order franchise's shows than any other character. Which is a pretty big feat, considering that Jack McCoy was around forever. Does Sam Waterston even age?
3. Detective John Munch (Richard Belzer)
1999–2014 The "handsome one" may be a stretch (please see Nick Amaro for that), but the hysterically sarcastic, conspiracy-theory fanatic one? You've got that cornered, Detective Munch, but your cynical act doesn't fool me. Some of Munch's best scenes in the show are when he lets the grouchy façade slip, like in season 2, when he reveals to Benson the guilt he carries for failing to recognize that one of his neighbors was abusing her daughter when he was in high school. Munch is like an onion – bitter, but there's lots of layers at play.
And here's a fun tidbit: the character of Munch has appeared in more television series than any other fictional character since his debut in 1993, appearing in nine series on five networks: NBC's Homicide: Life on the Street, Law & Order, Law & Order: Special Victims Unit, Law & Order: Trial by Jury, and 30 Rock; FOX's The X-Files and Arrested Development; UPN's The Beat; HBO's The Wire and ABC's Jimmy Kimmel Live! Just further evidence of the awesomeness of Munch.
2. Detective Odafin Tutuola (Ice-T)
2000–current

Why, yes, Fin, you are. You may be a little bit hardcore, but we know that you are a big softie on the inside. Your partnership with Munch is literally one of the most beautiful friendships on TV – remember that time you brought him his favorite fig milkshake after he got shot in the ass? And then there's your relationship with your son; even though you admit you were a crappy father when he was a child, you've worked to rebuild your connection with Ken, particularly after he came out. Oh, and damn you for making me cry when you told Ken he's "the bravest man I know" in Season 14's Criminal Hatred.
1. Detective Elliot Stabler (Christopher Meloni)
1999–2011
Oh, my love, why did you leave us (at the end of season 12)? Where did you go? And most importantly, when the hell are you coming back? Your relationship with your partner Benson had the perfect amount of sexual tension. Your kind eyes soothed the child victims and your bulging biceps seduced even the bitchiest of ladies and beat down the baddest of men. Even the stories that involved your family, like when Kathleen goes straight-up insane, Dickie runs away, or Kathy gets taken hostage by Miranda from Sex And The City, felt like they were actually part of the show, as opposed to random add-ons like Benson's. Sure, you could use a little work on your anger management issues, but couldn't we all?
Come back to us, Detective Stabler. Benson needs you. SVU needs you. I need you..
Image via YouTube