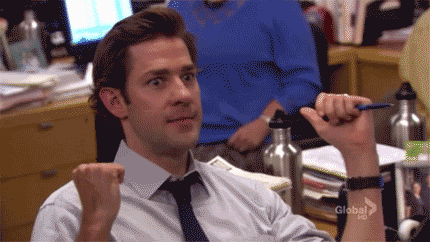 Over the last few weeks, we've received several one-liner submissions from random users in the form of Post Grad Solutions (#PGS) as opposed to the usual Post Grad Problems (#PGP). We can't tell if they're serious or not, but they're hilarious. So hilarious, in fact, that we decided to post them for you below, and write some of our own to go along with them.

Without further ado, here are your Post Grad Solutions for this week:

Buying a fiscally responsible used hybrid to save the environment and money on gas! #PGS

Taking the time to become a fantastic cook using family recipes passed down from generation to generation! #PGS

I have a really good feeling about this Match.com account that I just created! #PGS

Sticking to your strict budget no matter how much fun your friends are having going out and doing stuff, because you know it's worth it in the long run! #PGS

Brightening up your dull workplace with funny cartoons and kooky toys that really capture your personality! #PGS

I don't like my job very much, but some of my friends are unemployed, so I feel pretty blessed! #PGS

Staying off Facebook during work hours, because it's against company policy! #PGS

Using your stress ball to have a fun game of catch in the hallway with Phil! #PGS

Keeping a Sharpie by the office fridge so everyone can label their food! #PGS

Groupon lunch outings to save a few bucks! #PGS

Had a glass of water after every drink at happy hour. Got to work 10 minutes early the next day! #PGS

Staying at work until 5 even though your boss is out of the office! #PGS

Never using the handicap stall, because you're not handicapped! #PGS

Refraining from ogling the hot intern, because no one should feel uncomfortable in the workplace! #PGS

Closing the week strong so I won't have to dread Monday morning! #PGS

Eating the entire bag of salad before the lettuce goes bad! #PGS

Sticking to a regimented workout routine and a balanced diet! #PGS

Answering the phones for the secretary when she steps away from her desk! #PGS

Respecting your coworkers by refusing to gossip about them when they're not around! #PGS

Taking your antidepressants as prescribed! #PGS

Ordering the bowl because the burrito may hurt your afternoon productivity! #PGS

Now get out there and have a great weekend!