======= ======= ====== ====== ====== ===== ==== ====== ====== ===== ==== ======= ======= ====== ====== ====== ===== ==== ====== ====== ===== ====
Marijuana, pot, cannabis, weed, reefer, bud, herb, ganja, KK, or whatever the hell kids are calling it these days – the stigma with cannabis is still unfortunately thought of as some operation that is headquartered in some shady dude's apartment. Truth be told, that long thought of stereotype couldn't be further from the truth. Since 2012, four states have legalized cannabis for adults aged 21 and older, and with that, a whole new industry was born. An industry that is, unfortunately, too often overlooked.
I seriously don't get how conservatives talk about creating jobs when they ignore a profitable sustainable marijuana industry. #GOPDebate

— Shibby (@DrShibby) March 4, 2016
Whenever a new industry is introduced, inevitably there is an influx of new jobs and careers available for hardworking people, like you. People who are ready to grind out workday after workday. Recently I had the pleasure of reaching out to one of those brave entrepreneurs, Bob Eschino, who is the founder and president of Medically Correct, LLC. Best known for the incredibles brand, (which you'll find at almost any dispensary in Colorado) they make delicious products like this: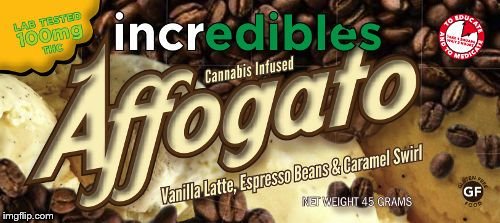 If you haven't heard of them, check them out on Twitter and Instagram
After a few e-mails, Bob was kind enough to take my phone call after a conference in New York. We discussed incredibles and what it's like working in the cannabis industry. Here's a summary of the interview I had with Bob through our e-mails and phone calls, highlighting the key things Bob had to tell me.
About how many people does incredibles employ?
"We currently employ sixty people."
And of those sixty people, how many are college graduates?
"At a quick glance, about half of our staff has graduated college."
*Internally, I start to ponder about life as a marijuana product development researcher*
Bob, how does someone get into the marijuana industry, and what types of jobs are out there for them?
"There are entry-level jobs up to CEO positions in the industry…There was a time we thought this would be a nice little side business, but it has now become a freight train flying down the tracks! We are not just producing infused products in Colorado, we are expanding nationally and internationally…in addition to trying to educate legislators across the globe on sensible cannabis rules and regulations. The industry is growing exponentially in one of the most regulated frameworks imaginable and all without proper business tools like access to capital."
So it's just like what Wu-Tang was saying, "Cash Rules Everything Around Me… C.R.E.A.M dolla dolla bills y'all."
"I appreciate the Wu-Tang reference, but… *laughs* It's funny, I was talking to people here last night, but there's really no money yet. We're one of the biggest companies in the state but the money just goes into taxes and then right back into the company because we can't get lines of credit. The perception that we're all millionaires is incorrect, there's just not that kind of money available yet"
I would assume that must make it hard to operate a business, dealing with such a large volume of sales and taxes with only cash revenue. Aspects like managing your accounts receivable, books, and just operating as a business seems impossible with strictly cash and no lines of credit.
"Yea, that's where all the money goes. It goes to accounts receivable, it goes to inventory, and it goes toward expansion. And not being given the tools that normal businesses get to have like access to banking and the ability to finance their operations and leverage their profitability to find money. It's a very challenging stage to operate in."
Have you ever thought about posing with any of that cash? You know like 50 Cent, doing it for the Instagram? Even if just to prove a point ironically?
"I deal with dispensaries, I don't deal with the public. The public has to use cash but my customers, the dispensaries, typically pay me in checks. It's not like the dispensaries where we have a huge wad of cash. Dealing with cash isn't as big of an issue for us as it would be a dispensary."
Obviously with it still being a schedule one drug federally and strictly cash makes it a risky business, right?
"I don't think about those risks; I would lose my mind. I focus on the positives, the amazing health benefits we see every day, and the growth the industry is seeing…This all started from my Grandmother getting medical relief from cannabis and I wanted not only to give her better products, but give other people good quality products…And then you have the government who considers cannabis a schedule one drug with no medical value. But they have their own medical program for the past thirty years, and then the US government grows cannabis and gives it to patients. That's the sort of hypocrisy that needs to be shown to everyone. That's some bullshit, and it's bullshit that they keep it there."
I mentioned your Instagram earlier on, rumor has it you got shut down on Instagram when you just hit 16,000 followers recently?
"Yes we did, it's the same prejudice we see every day for almost everyone in the industry. You would be shocked by the people who refuse to do business, even though we are the fastest growing industry around right now."
I'm bummed to hear that, but that's nothing a boulder bar couldn't cure. So what's the day to day routine around the office for you guys?
"That is such a loaded question. There were days Rick, Josh and I did everything. My days now primarily consist of focusing on the national expansion of our brand and legislative work, both locally and nationally."
A lot of our readers and remote writers work in a traditional industry. They have jobs that pertain to HR, teaching, IT, sales, finance, insurance, accounting, and practicing law. When I asked a few what they first thought about a business that makes cannabis edibles the answers they gave ranged from "Hippies and pot brownies," "New age hippies but not totally against the man," to "White guys with dreads," but it seems to me that it's quite the opposite. My whole point of this interview was to try and bring the readers a job that's not really considered normal and shed some light on it. After talking today, it seems like that's exactly what it is. A normal business just like any other.
"And really it is. People come in and they go, "Wow that is not what I expected." We are now a, "very big little company" is how I describe us because we grew so quickly. We started up six years ago. However, two years ago we had to focus in on putting in a corporate structure because of the rapid growth. Then it was about flow charts, SOP's, and protocol. We started out very small, and it was three of us, with one employee and two owners. But it is a fast paced work environment and the people who come to work for us are expected to work. There is a lot of work to do. We are very busy and due to the restrictions that we have when it comes to hiring employees and salaries and those types of things everyone is expected to wear a lot of hats and fill a lot of roles. So the one thing we have is that Cannabis is now accepted as a medicinal drug and recreational substance for adults, and we have that perk. But, besides that, people are busting their asses. We have a fast paced commercial kitchen where they're in at four in the morning making five thousand, six thousand, seven thousand bars a day. We have ten to twelve people in packaging who are labeling bags and packaging products all day every day. We have four drivers delivering products, and we have sales people, and merchandisers, and people managing the grow, and people managing the extraction lab. It is a lot of work, and it's not what people think, "Ohhh yea it's a pot company and we're gonna go in there and there's gonna be tie-dyes everywhere and everyone is gonna be high and all chilled out" No. We are working. We are producing medicine for patients. We are the biggest company in our space in Colorado, so there's a lot of pressure on us to do things properly, to operate like a real business, and to make sure our customers are satisfied."
Bob I know you're probably going to roll your eyes, but has anyone ever suggested ending the workday at 4:20 instead of 5?
[Bob chuckles]. No, the work never ends lately. It's a great problem to have though.
Also I have to ask this for the PGP readers. How wild does your Christmas party get?
"We took everyone to Fogo De Chao this year and had an incredible time. We had almost 100 people at this year's event, and I still remember when there was just a handful of us. It's hard to believe the growth we've seen over the last few years!"
That officially beats my company's Christmas party. But it sounds like you guys deserved it. I couldn't help but notice you've won quite a few awards including one in the "Best Edibles" category at the High Times Cannabis Cup back in 2013? Is that like "the" award in the industry?
"Thank you. We have been recognized by a number of organizations over the years and High Times is one of the most prestigious. We have won five or six different honors from High Times. Another one of our favorites awards was Westwords "Best of Denver" because that was voted on by people all over Colorado! Also, our Affogato bar was mentioned in GQ's Top 50 things to eat last year! That was amazing and shows that cannabis is moving more mainstream."
I was there in 2013. Can you confirm that seeing Snoop Dogg instead of Pepper at Red Rocks was a huge mistake on my part?
"I didn't go to either show. I think that was the biggest mistake."
You have a huge range of flavors like Pumpkin Pie Delight (any basic girls, and my own, fall dream), Peanut Budda Buddha, Cookies & Cream (it's delicious), and Fire Berry. Have you had any flavors that you experimented with and didn't quite make the cut? If so could you name a few?
"We always have new items in R&D. We've worked on so many items it's hard to keep track. We have a dozen or so products ready for the shelves. We're hoping to have over fifty thousand square feet of grow space open in the next year that will help with new items at the dispensaries. We had a salted caramel chocolate bar that I loved, we just couldn't figure out how to produce it efficiently. However, we did just launch a Pistachio Mint bar and new vape pen."
Bob, this may sound super basic, but I really want to try that Pumpkin Pie Dream.
"That was a great success this year and we'll definitely do it again next year."
A lot of our readers and one of our remote writer Icehouse are based in Denver. Do you do factory tours?
"We've had to stop giving tours. But feel free to stop by sometime."
I'll see you around for sure, Bob.
***
After talking to Bob, I began to realize that the people at incredibles aren't just some dudes trying to peddle homemade space-cakes. They're responsible businessmen, with a real business, in a fast paced and developing industry. An industry with extremely high levels of standards that has to deal with issues and restrictions that any other business owner couldn't even fathom.
They're a business that unfortunately gets scoffed at or brushed off quickly due to the stigma that surrounds it with the stoner stereotypes and a quasi-legal state across the nation. In reality, they're no different than any other type of business looking to bring consumers a high quality product in demand for a profit. A demand that inevitably will be there in a legal market and was there when cannabis was limited to an illegal black market. The only difference is they're figuratively, and sometimes literally, handcuffed when it comes to industry expansion due to the status quo. That is until we all collectively call for a change and realize that cannabis can, and one day will, be a mainstream industry providing jobs, raw materials, food, recreational fun, and medicine.
I'm ready for the business, are you?.
Image via Shutterstock