If you think you've ever had a bad first day at work, at least you were probably sober, and almost definitely wearing some kind of trousers, or for ladies who are so inclined, a dress or skirt that covered up your naughty bits. You'd think that would be a given.
This wasn't the case for Lorie Anna Hill, a brand-new teacher in Wagoner, Oklahoma, who showed up for her first day of school drunk and pantsless, and was subsequently arrested.
School officials called the cops around 9 a.m. on the Monday before school starts to report that Hill, 49, was out of sorts and seemed to somehow be missing the lower half of her clothing. Police arrived to find her in an empty classroom and determined that she was heavily under the influence of alcohol.
"She was found in a room kind of disoriented," Police Chief Bob Haley told the Tulsa World, "By the time we got there she was in a room and wearing shorts."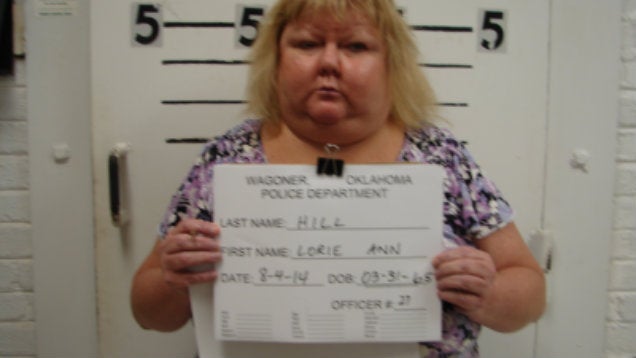 What a mug shot. She kinda looks like the female Nick Nolte.
Hill confessed to the Wagoner police she'd been drinking, and a search of her car turned up an empty cup that reportedly smelled of vodka. However, there wasn't enough evidence to prove that she drove drunk, so she was spared a DUI charge, and was merely arrested on suspicion of public intoxication. Wasn't enough evidence? I've seen people get dragged out of their car and beaten senseless for a hand-rolled tobacco cigarette, but a cup that strongly smelled of vodka? Nah, no evidence.
Guess that's how they do it in Oklahoma. Classes begin on Thursday in Wagoner, Oklahoma, but I'm pretty sure Hill won't be there to teach. Unless, again, that's how they do it in the Sooner State.
[via Gawker]