======= ======= ====== ====== ====== ===== ==== ====== ====== ===== ==== ======= ======= ====== ====== ====== ===== ==== ====== ====== ===== ====
Every morning, we gather here to contemplate, plan, soak up inspiration, harvest motivation, and get jacked up on coffee and confidence for a day of kicking ass.
TIME TO MAKE TODAY BEG FOR MERCY. IT'S MONDAY, JANUARY 23, AND THERE'S NOTHING BUT POSSIBILITY ON THE HORIZON. CAN YOU FEEL IT? I CAN, DEEP DOWN IN MY LOINS, RISING LIKE A PHOENIX. THAT CAME OFF AS SEXUAL, BUT I CAN ASSURE YOU, IT IS NOT. IF ANYTHING, IT'S VIOLENT. VIOLENT AMBITION. SO POUR A CUP OF ENERGY AND PREPARE TO STACK PAPER.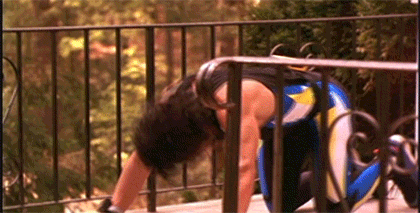 "What the hell is going on right now?" you might be asking yourself. "Has Bolen lost his mind?" Maybe I have. But only those who are crazy enough to dream ever get rich and die happy. Pretty sure Michael Jordan or Michael Dell said that. Maybe Steve Jobs or Gandhi. Anyway, I'm going to tell you a little bit about what I've got going on today, and then it'll be your time to shine.
I've got a couple meetings lined up before lunch. Going to crush those, no doubt. The key to meeting domination is making sure you talk more than anyone else. This lets people know not only that you are paying attention, but that you possess the means to communicate by making sounds with your vocal chords, which is key in business — unless you know sign language, then that shit is cool, too. Shout out to my mute brothers and sisters out there doing business hard. Also, if someone asks you a question and you don't know the answer, just respond with as much positivity as you can possibly muster. People fucking love positivity. That's another key to meeting domination.
"Oh absolutely, absolutely. One hundred percent correct. Yes is the answer."
Nailed it. How could anyone that positive be wrong? It's not possible. I'll give you one more key to meeting domination for good measure. Bring a large notepad and regular-sized pen. It's important that your notepad isn't small. Only humans with small brains carry small notepads. You want everyone wondering how you could possibly have so many ideas that you need a notepad that huge. It doesn't matter if there's anything for you to take notes on, or if you're even supposed to be in that particular meeting. On occasion, if I walk past the conference room and there's a meeting about to get started, I'll just walk in and sit down. Nobody will remember whether or not you were on the meeting invite. Next thing you know, you're CEO.
What do you have going on this morning? What are you going to conquer today? Let us know in the comments section below. Positivity only. Build the energy. Come correct or don't come at all..
"The way to get started is to quit talking and begin doing." -Walt Disney