======= ======= ====== ====== ====== ===== ==== ====== ====== ===== ==== ======= ======= ====== ====== ====== ===== ==== ====== ====== ===== ====
The last week of work leading into vacation is always the slowest week, and that's what I'm facing this Monday morning, my friends. Yes, I know I shouldn't be bitching because I'm going on vacation, but I don't understand how it's possible that a forty hour work week only feels like a one-hundred-and-forty-hour one right before you jump a plane to an exotic locale.
But while I spent the weekend packing and dreading the week ahead, there were definitely a few people that had a worse weekend than I did.
Steph Curry
It's a little bit hard to feel bad for Steph Curry. He's the first player in NBA history to drain 400—and, before that, 300—three-pointers in a single season; he lead the league in scoring by dropping 30.1 points per game; and he's one of the only eight members of the NBA's 50-40-90 club. So while I don't feel bad for Curry on a broad basis, the dude did have sort of a crappy weekend.
After leading Game 1 of the playoff series against Houston after tweaking his ankle, Curry was sidelined for Games 2 and 3. He returned for Sunday's Game 4, only to slip on the floor during the first half and suffer a sprained right knee that will require an MRI on Monday.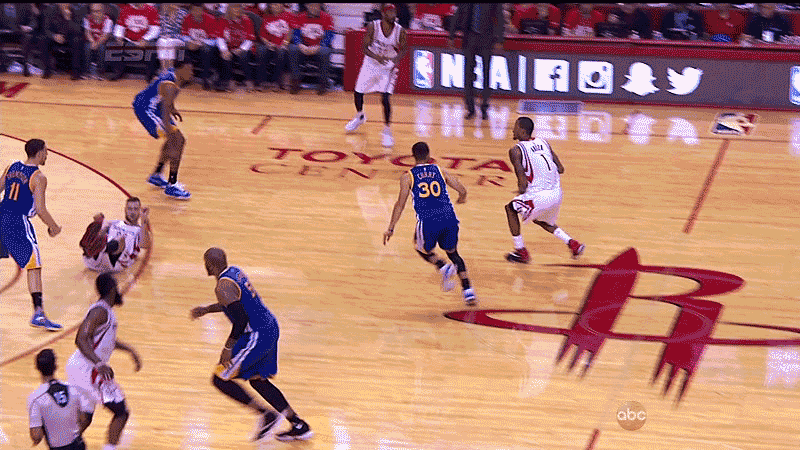 Golden State did manage to win the game without their resident superstar, as well as set the record for most 3 pointers made in a playoff game. So…good weekend for Golden State, and bad weekend for Steph Curry? [via Bleacher Report]
Rachel Roy
Confession time: I didn't watch the big Beyoncé "Lemonade" reveal on Saturday. It wasn't that I had anything better to do – I just didn't care. Anyway, one person who definitely didn't enjoy the "Lemonade" reveal was fashion designer Rachel Roy.
Roy is alleged to be "Becky with the good hair" from Queen Bey's new song "Sorry." This new rumor digs up some old ones; Roy was also alleged to be the reason that Beyonce's sister Solange attacked her husband Jay-Z in 2014 after the Met Gala.
After the Beyhive went on attack on social media, Roy tweeted the following:
I respect love, marriages, families and strength. What shouldn't be tolerated by anyone, no matter what, is bullying, of any kind.

— Rachel Roy (@Rachel_Roy) April 24, 2016
Which only spurned the haters on:
@Rachel_Roy if you knew what respect was you wouldn't be sleeping with men who are married but ok becky pic.twitter.com/kcgrTovVxG

— r |ⵔⴰⵏⵢⴰ (@pettyamazigh) April 24, 2016
Now, I don't know if Roy and Hova had an affair or not…but if they did, shouldn't the hate be directed at the rapper? I mean, he's the one with the ring on his finger. [via People]
Sean Morkys
Many of us have cracked Trump jokes on the Internet. In fact, there are probably some people who are building entire careers making jokes about Trump's hair, faux tan, and questionable views. But one guy from Connecticut discovered this weekend that you can indeed take it too far.
The Secret Service asked Connecticut State Police to pick up 20-year-old Sean Morkys on Saturday afternoon after Morkys posted on Twitter, "Is someone going to bomb the trump rally or am I going to have to?" regarding Trump's Saturday rally in Bridgeport, CT.
While the state police did track Morkys down at a home in Waterbury and take him into custody, it was ultimately determined that he didn't pose an immediate threat and he released on $25,000 bond.
So hair jokes? Ok. Bomb jokes? Not so much. [via New York Daily News]
This School in Austin, TX.
It was just last week that we were mocking the British people for naming a new exploration vessel "RRS Boaty McBoatface" by an overwhelming margin. Well, it looks like we Americans aren't any better.
The Austin, TX. Independent School District has decided to rename Robert E. Lee Elementary and asked the public for suggestions. Among the ingenious suggestions made by our fellow Americans:
Drew Brees Elementary
Bruce Lee Elementary
John Cena Elementary School
Donald J. Trump Elementary
Bleeding Heart Liberal Elementary
Forgetting the Past Dooms You to Repeat It Elementary
Hypothetical Perfect Person Memorial Elementary School
And of course, Schoolie McSchoolface/Boaty McBoatface Elementary School.
Now, John Cena Elementary I could get my mind around (I mean, the guy has fulfilled more Make-A-Wish wishes than anyone), but I'll be damned if Drew Brees gets a school named after him before Tom Brady. But whatever the school winds up being named, I think the list above proves why we can't have nice things, my friends. [via KXAN]
Hillary Clinton's Press Corp
The folks traveling in Hillary Clinton's press corp may want to go get tested… or at the very least, take a long, hot shower and invest in a latex suit to wear for flights. Because it appears that the plane they are traveling in had also been home to some pretty famous mile-high sexcapades.
Turns out, the private plane that Clinton has chartered for her press corp is owned by everyone's favorite playboy, Dan Bilzerian. Given that Bilzerian is infamous for his sex-fueled romps, including renewing his membership to the mile high club while flying the friendliest of skies with bevvies of beauties, it stands to reason that there are definitely some interesting fluids floating around in the plane's processed air. And lord knows what's lurking in the crevices of those seats.. [via TMZ]
Image via Featureflash Photo Agency / Shutterstock.com