======= ======= ====== ====== ====== ===== ==== ====== ====== ===== ==== ======= ======= ====== ====== ====== ===== ==== ====== ====== ===== ====
"I think something's wrong," I croaked, reaching toward my giant Yeti and greedily sucking down a mouthful of water.
"What's wrong?" my friend asked, feigning concern without looking up from whoever's Instagram she had been silently stalking for the past 10 minutes.
"I can't stop coughing up like, bile," I choaked, bravely trying to get the words out. "I think I'm having an allergic reaction or something."
I was sitting on the floor of my apartment after inhaling half of a pizza when it happened. After shoving the last bite of pepperoni pineapple down my gullet, I washed it down with the rest of my 5th glass of wine and laid down on the floor, as one does on a casual Thursday evening in your early twenties. Now, back in the day, this wasn't an unusual diet for me. Before my metabolism decided to casually tell me to go fuck myself, pizza for dinner and pinot grigio to hydrate was as much of a staple as chicken and asparagus are in your late twenties.
But up until then, I never experienced any side effects (other than the slow, progressive weight gain that I didn't notice until it was too late). I didn't understand when my mom would complain about greasy food hurting her stomach or got why my dad popped anti-acid pulls before and after a big meal like they were candy.
And then, well, I got acid reflux for the first time.
Now, I don't mean to be dramatic (kidding, I totally mean to be dramatic) but acid reflux is maybe the worst thing that can happen to you. I mean, here you are, living your best life, scarfing down some enchiladas, an entire deep dish, or a whole plate of mac 'n' cheese, when suddenly your stomach decides that, no. You're no longer allowed to eat like a trash human. Basically, when you eat a whole bunch (or just a whole bunch of garbage) your stomach acid splashes up into your esophagus, causing your chest and throat to hurt, you to cough of disgusting tasting mucus, and have a general sense of "am I dying" feeling wash over you.
I honestly never thought it would happen to me. Why would I think that? I was young. I loved carbs. Only old people deal with shit like heartburn and stomach acid coating your throat.
The first time it happened, I took a whole bunch of allergy medication, looked up the closest hospital, and made my friend promise that she'd get me there if I went into anaphylactic shock. It wasn't until a few nights later when I stuffed my face with 2.5 servings of pasta while laying horizontal on the couch, however, that I had a feeling something else might be up. I brought up WebMD as I always do in situations where I think I'm dying, and typed in my symptoms. After the detectives over at HQ (and by that, I mean the people who write the shit on the website) gave me some insight, I realize that I wasn't having an allergic reaction and I wasn't dying.
I was just a fucking pig.
A lot has changed since the first time I got AR two years ago. I eat fewer chimichangas and more open-faced turkey sandwiches on sprouted grain bread. I limit my alcohol intake to the weekends, and my shot limit is usually around three. I always have an absurd amount of Tums in my bag and Pepcid in my medicine cabinet in case something offending touches my lips and I'm subjected to hours of pain and force everyone around me to deal with my complaining.
In short, getting acid reflux was my very first slap in the face that getting older sucks ass. If you've not yet been subjected to the pain of getting older, hold on. Enjoy your youth. Because before we all know it, our insides are going to prolapse, our sex drives are going to disappear, and fried food will be a thing of our pasts.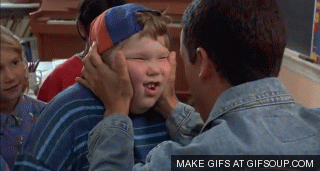 Fuck us, right?.
Image via Shutterstock